Militia clashes kill 10 in east DR Congo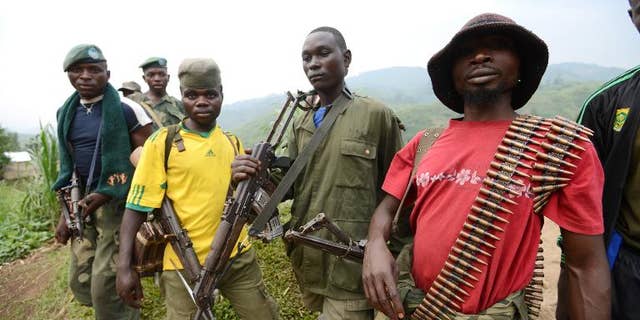 NEWYou can now listen to Fox News articles!
Goma (RD Congo) (AFP) – Fighting between two rival militia forces has killed at least 10 people in the Masisi territory of the east of Democratic Republic of Congo, official and civic sources said Monday.
"There were clashes between the APCLS (Alliance of Patriots for a Free and Sovereign Congo) and elements of the Sheka on Friday and Saturday at Kalembe," John Banyene, chairman of Masisi's civil society association, told AFP.
Confirming the clashes, the administrator of the Masisi territory, Dieudonne Tshishiku, said the hospital at neaby Mweso had reported 10 deaths - "five civilians, three Sheka Mai-Mai and two APCLS fighters" - with seven people wounded.
Banyene spoke of 16 dead in the fighting in the unstable region west of Goma, capital of North Kivu province, which has been in turmoil since warfare ravaged the country from 1996 to 2003.
"Hostages were taken, but we don't know how many," he added.
Banyene said the two militia groups had also clashed in another part of the territory. "Three children drowned when they tried to cross the stream and flee. One child, one man and one woman were also killed, five people were injured and five huts were burned down."
Banyene said that "relative calm" had returned on Monday and that people who fled Kalembe for Mweso had returned home.
The APCLS is an armed group comprising mainly members of the Hunde tribe. In February and March, violent clashes broke out between this militia and the army, leaving several dozen dead and tens of thousands of people displaced.
The Ntabo Ntaberi Sheka militia of Mai-Mai tribal warriors is accused of acting alongside army deserters and Rwandan Hutu rebels of the Democratic Forces for the Liberation of Rwanda (FDLR) for four days in 2010 to attack 13 villages in the Walikale region, west of the Masisi. The gang is accused of raping almost 400 women during the raids.
Banyene said that the APCLS and the Sheka had been fighting for almost five months so that "the people who live mainly off the land can no longer do their jobs because of the insecurity".
He urged "the government to assume its responsibilities" and called on the UN Mission for the Stabilisation of the Congo (MONUSCO), which has a duty to protect civilians, "to help the government to restore the authority of the state".