Military convoy in Mexico ambushed – six soldiers killed, eight hospitalized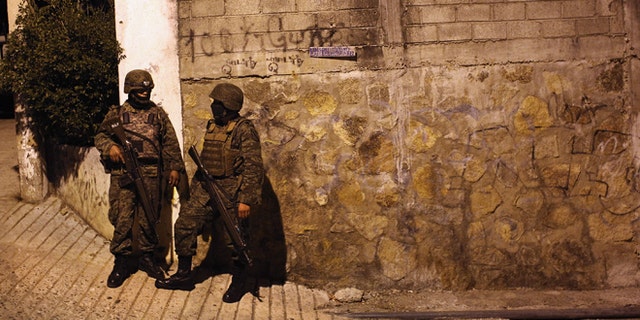 NEWYou can now listen to Fox News articles!
Six Mexican soldiers were killed Friday morning in an attack on a convoy that left the torched remains of military vehicles strewn along the road in the northern state of Sinaloa.
The attack, which happened on the outskirts of the state capital of Culiacán, left four soldiers dead at the scene, while another two died after being transported to a nearby hospital. The Mexican Ministry of Health reported that another eight soldiers remained hospitalized with serious injuries.
The soldiers were attacked by a group of gunmen traveling in luxury SUVs and carrying assault rifles and grenades. While the gunmen were eventually turned back by the soldiers, two Mexican Army Humvees were destroyed during the firefight.
Authorities in Mexico have not revealed who they believe is behind the attack, but Sinaloa has seen an increase in violence as rival drug cartels battle for turf.
For years the state has been controlled by the Sinaloa Cartel, which was headed by notorious drug lord Joaquín "El Chapo" Guzmán until his arrest earlier this year. The group in the past generally refrained from attacking Mexico's military.
The rival Cartel Jalisco Nueva Generación (CJNG), however, has made incursions into terrain long held by the Sinaloa, and that organization is known for carrying out bloody attacks on government forces.
Emerging in 2009 from the chaos and power struggles among drug traffickers in the country's central region, the CJNG has become known for grisly displays to announce their arrival in new turf. Severed heads, mutilated corpses and ominous signs hung from highway bridges have become the group's calling cards.
CJNG is also believed to be behind the 2015 attack in which cartel gunmen in the state of Jalisco shot down an army helicopter with a rocket launcher, killing 10.
Like us on Facebook
Follow us on Twitter & Instagram