Militants Launch Surprise Attack in Yemeni City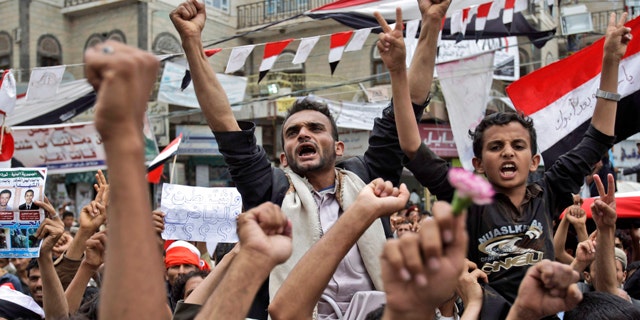 NEWYou can now listen to Fox News articles!
SANAA, Yemen -- Islamic militants emboldened by months of turmoil in Yemen launched a surprise dawn attack Wednesday on a southern city, seizing entire neighborhoods after gunfights with government forces, security officials said. One soldier was killed and three were wounded in the fighting.
The militants, believed to number between 150 and 200 and to include Al Qaeda members, were in control of several neighborhoods in the southern part of Houta, the provincial capital of Lahj province, the officials said. Some of the militants also were deployed in farmlands just outside the city.
The attack came a day after a senior U.S. official said Washington was worried that the ongoing unrest in Yemen could fuel connections between Al Qaeda-linked militants in the Arab nation and al-Shabab insurgents in Somalia.
Daniel Benjamin, the State Department's counterterror coordinator, also said insurgents in Yemen were now operating more in the open and have been able to acquire and hold more territory.
The Yemeni security officials also said that bands of militants drove through some neighborhoods in the southern port city of Aden early Wednesday, opening fire on security forces. They had no further details. The officials spoke on condition of anonymity as they were not authorized to talk to the media.
Islamic militants, taking advantage of more than four months of political upheaval in Yemen, had attacked and seized two other southern cities in Abyan province in late May.
Massive anti-regime protests have swept much of the country since February, and rival forces are squaring up to each other in the capital Sanaa after days of fierce street fighting earlier this month.
Ali Abdullah Saleh, the country's president of nearly 33 years, is in neighboring Saudi Arabia for treatment from wounds he suffered in a rocket attack on his compound in Sanaa.
Government spokesman Abdu al-Janadi said Wednesday that invtesigators have determined that a "military" group was behind the June 3 attack. He did not elaborate, but he appeared to mean army units that mutined in March against Saleh to join protesters demanding the president's immediate ouster.
The capture of Zinjibar and Jaar in Abyan province and Wednesday's attacks in Houta and Aden suggest a further weakening of the central government's authority that, if left unchecked, could cause the impoverished nation in the southern corner of the Arabian Peninsula to unravel or fall deeper into chaos.
Residents in Shabwa, one of the Al Qaeda strongholds in southern Yemen, have been reporting intensifying overflights by U.S. drones, suggesting the Americans were keeping close watch on the situation.
The CIA is trying to speed up construction of a Persian Gulf base for its drones, but the process is being held up by logistic delays, U.S. officials said in Washington. The officials, speaking on condition of anonymity to discuss sensitive security matters, said the base is at least eight months away from completion.
The Associated Press has withheld the exact location at the request of U.S. officials.