Militant says no Britons among Nairobi attackers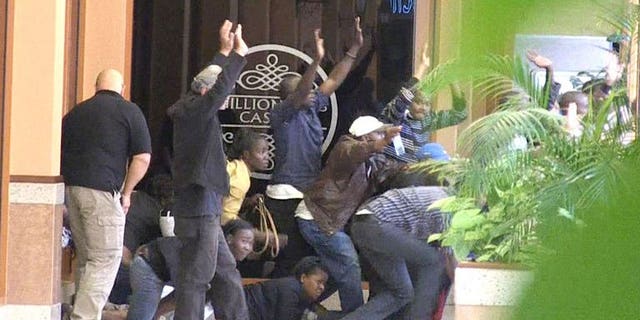 LONDON (AFP) – An alleged commander in the Somali Shebab rebel group on Monday denied news reports that Westerners or women were involved in the hostage standoff at a Nairobi mall that has killed at least 69 people.
The man, who claimed he had been in contact with the Islamist attackers inside the Westgate shopping centre, also said the militants would not negotiate an end to the siege.
The man, who called himself Abu Omar, was speaking to BBC radio after several British newspapers reported that Samantha Lewthwaite, the widow of one of the suicide bombers in the 2005 attacks on the London transport network, could have masterminded the attack.
"There are some rumours spreading around that say that there have been American, British and other attackers of different nationalities involved," Abu Omar said.
"I can confirm to you that none of that is true, I know that is baseless rumours that have no justification for them."
He claimed that women would never be involved in perpetrating such attacks.
"To verify, we do not employ our sisters to carry out military attacks of this type so these are just baseless rumours that have no substance to them," he said.
The man added: "There will be no negotiations."
"We've spoken to the mujahid inside Westgate and they told us that the Kenyan government was urging them to negotiate and was also giving them some incentives to come to the dialogue table.
"Every mujahid goes out to fight in the only true way... he wants to die for the sake of Allah to achieve martyrdom and that's something which has obviously confounded many Westerners and they have failed to come to terms with that."
Heavy gunfire and loud explosions were heard at the mall on Monday as Kenyan troops fought Islamist militants who were still holding hostages.
The siege has so far left 69 people dead, with another 63 missing, according to the Kenyan Red Cross.