Mike Bloomberg's Mangled Attempt at Spanish Parodied in @ElBloombito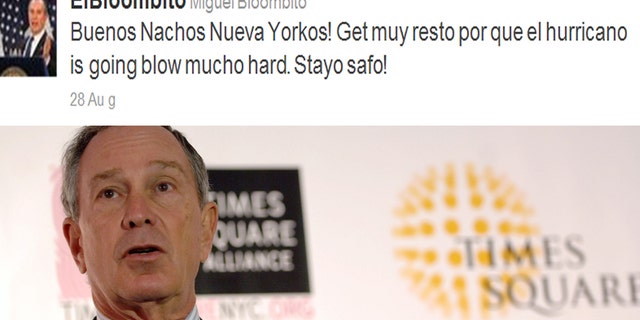 If you've ever heard Michael Bloomberg speaking Spanish you know that, however admirable his efforts, his second tongue can be, well, mucho paino.
This past weekend a Twitter feed, @elbloombito, was launched poking fun at New York City's mayor's very earnest, yet somewhat grating, attempt at speaking Español.
The tweets call him Miguelito Bloombito.
The Twitter feed, which started Saturday and already has close to 11,000 followers, is already being called one the best things Hurricane Irene left behind in her wake. It's getting much buzz in Twitter and Facebook, too.
"Cuidado! Prohibido to down los trees solomente. Llámano el cuidad para helpayudo. Que injurido! El ouch!" said one tweet.
"No walko en el outsido! Mucho dangerouso! Muy agua en la calle. El rápido speed winds que knocko you over," said another.
Created by Rachel Figueroa-Levin, a Puerto Rican from New York City who calls herself a JewYorican, the Twitter parody started as a "joke" among friends, and quickly took off.
"We were all in the apartment watching his press conference this weekend and he started speaking Spanish, and, it was kind of funny," said Figueroa-Levin, a blogger and a stay-at-home mom of a nine-month-old girl. "I continued the Twitter feed just for my friend, as a joke, but I had no idea it would take off the way it did."
Since then, Figueroa-Levin has been fielding calls from the national media, including Time Magazine and the Huffington Post.
Her reaction?
"I'm amused. It's really funny that people find my Spanglish funny," she said.
She says as long as it stays fun, she'll continue the feed. As long as it doesn't get in the way of more important duties.
"My first priority is taking care of my baby," said the mother of a 9-month-old. "If @elbloombito gets in the way of that, I'll have to stop."
During a press conference Monday about Hurricane Irene, Bloomberg defended his use of the language he's been trying to learn for years.
"My Spanish skills, I can tell you, poco y poco de mejorar," the mayor said in Spanglish. "Pero es difícil. Tengo 69 años, es difícil aprender un nuevo idioma. (I'm 69, it's difficult to learn a new language)."
Bloomberg seems to have taken the Twitter feed in stride. He later tweeted a link to a video where he responds in Spanish to Figueroa-Levin's posts.
"Me escuchas, @ElBloombito?"
Follow Carolyn on Twitter at @SalazarLatino.
Follow us on twitter.com/foxnewslatino
Like us at facebook.com/foxnewslatino