Migrant caravan reaches US, Mexico border
A group of about 50 Central American migrants who fled southern Mexico in late March have reportedly reached the U.S. border and plan to seek asylum.
Ever since it peaked at around 1,500 people, the so-called migrant "caravan" has mostly shrunk and dispersed under pressure from Mexican migration authorities, who vowed to separate those migrants with a right to stay in Mexico from those who did not, and President Trump, who called in National Guard troops to help secure the border.
Some of these migrants, who say they are fleeing gang-driven violence in Honduras, will request asylum in America.
"Since yesterday, some began to cross into the United States to turn themselves in from Tijuana and request asylum. We understand more of (the migrants) will do the same," Jose Maria Garcia, director of Juventud 2000, an organization dedicated to assisting migrants, told Reuters.
Per U.S. Citizenship and Immigration Services, asylum seekers must "demonstrate [they] have suffered persecution or fear that they will suffer persecution due to" five factors: race, religion, nationality, membership in a particular social group, or political opinion.
More migrants reportedly will be arriving in the coming days.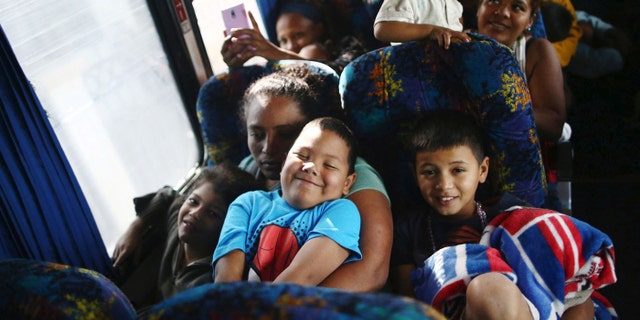 The caravan left the Guatemala-Mexico border in late March and grew to more than 1,000 migrants who found safety traveling in numbers. It was to have formally ended in Mexico City, but many of the migrants feared going solo on the dangerous final leg north and decided to keep traveling together.
Some who had split off to press on alone reported back about kidnappings and having their papers for safe passage torn up.
Honduras, El Salvador and Guatemala are among the most violent and impoverished countries in the Americas, which prompts many people to leave in search of a better, safer life.
On Thursday, Mexico's National Immigration Institute said its agents found a total of 191 mostly Central American migrants jammed into a truck and a bus in southern and central Mexico.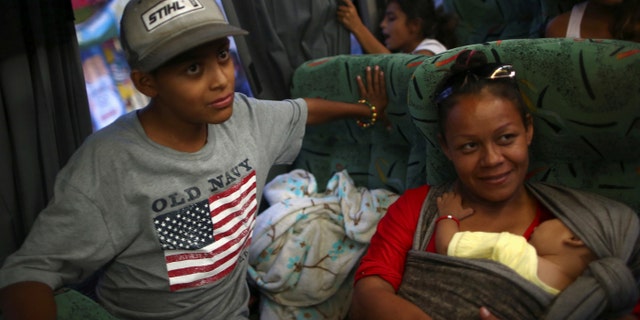 The institute said 103 migrants were found packed into a truck in the Gulf Coast state of Veracruz. The people had gone two days without food or water. All but two are from Guatemala, and 55 are minors.
Agents also found 88 migrants crowded into a bus that had seating for only 42 people in the north-central state of Hidalgo. Eighty are from Guatemala, among them 45 minors accompanied by relatives.
Meanwhile, Arizona, Texas and New Mexico have deployed National Guard troops to the border at the Trump administration's request.
The Associated Press contributed to this report.