Miami-Dade police union says shooting of therapist was attempt to save his life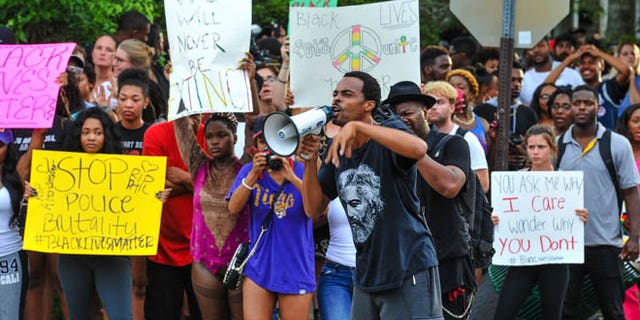 North Miami Police Chief Gary Eugene said the investigation on the shooting of a therapist Thursday under confusing circumstances has been turned over to the Florida Department of Law Enforcement and the state attorney's office.
He called it a "very sensitive matter" and refused to identify the officer who fired three shots against therapist Charles Kinsey, who had been trying to coax his 27-year-old autistic client back to a nearby facility.
City officials, however, identified the officer who pulled the trigger as a 30-year-old Hispanic male.
Kinsey was wounded in the leg and is recovering in a local hospital.
The shooting drew national attention because much of what happened before the shooting was captured on video.
According to the Miami Herald, the police union has admitted that the shooting was an accident in an attempt to save Kinsey's life.
Police union head John Rivera told reporters that the target was the autistic man next to him, whom police believed was armed. The Herald said that the autistic man ignored police orders to lie down.
"Mr. Kinsey did everything right," Rivera said as quoted by the Herald.
Cellphone video shows Kinsey lying on the ground with his arms raised, talking to his patient and police throughout the standoff with officers, who appeared to have them surrounded.
The video does not show the moment of the shooting. Kingsley attorney, Hilton Napoleon II, said there was about a two-minute gap in which the person who shot the video had switched off, thinking nothing more noteworthy would happen. It then briefly shows the aftermath of the shooting. He would not say who gave him the video.
"Lay down on your stomach," Kinsey says to his patient in the video, which was shot from about 30 feet away and provided to the Miami Herald. "Shut up!" responds the patient, who is sitting cross-legged in the road.
Kinsey said he was more worried about his patient than himself.
"I'm telling them again, 'Sir, there is no need for firearms. I'm unarmed, he's an autistic guy. He got a toy truck in his hand," Kinsey said.
"As long as I've got my hands up, they're not going to shoot me. This is what I'm thinking. They're not going to shoot me," Kingsley told WSVN-TV from his hospital bed, where he was recovering from a gunshot wound to his leg. "Wow, was I wrong."
Monday's shooting comes amid weeks of violence involving police. Five officers were killed in Dallas two weeks ago and three law enforcement officers were gunned down Sunday in Baton Rouge, Louisiana. Before those shootings, a black man, Alton Sterling, 37, was fatally shot during a scuffle with two white officers at a convenience store. In Minnesota, 32-year-old Philando Castile, who was also black, was shot to death during a traffic stop. Cellphone videos captured Sterling's killing and the aftermath of Castile's shooting, prompting nationwide protests over the treatment of blacks by police.
The AP contributed to this report.
Like us on Facebook
Follow us on Twitter & Instagram