Miami Beach PD under fire for racist and sexist emails allegedly sent by cops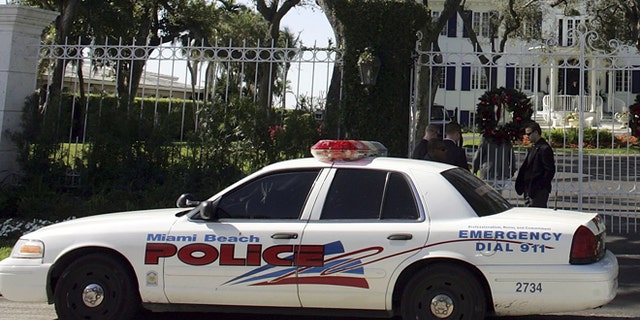 NEWYou can now listen to Fox News articles!
Several Miami Beach police officers are in hot water for allegedly having sent hundreds of racially and sexually charged emails, said the department chief.
At least 16 officers sent or received 230 offensive emails, most of them between 2010 and 2012, said Miami Beach Police Chief Daniel Oates.
Oates said the emails came to light in an unrelated 2013 internal affairs probe involving now-retired Maj. Angel Vasquez, who, along with former Captain Alex Carulo, sent the bulk of the emails.
Carulo, who set up a pornographic account using his official city email, was fired on Friday, according to The Miami Herald.
The scandal could jeopardize dozens of criminal cases in which they are witnesses, Oates said.
Prosecutors are going over 540 criminal cases in which police officers who received racially or sexually charged emails were listed as witnesses, The Herald said.
The state wants to know if racial or sexual bias could have played a part in the arrests in such cases.
Of the criminal cases, 70 percent of the people who were arrested were white or Hispanic, and the rest black, The Herald said.
The emails demeaned African-Americans and women.
Others mocked "illegal immigrants," The Herald said.
Many were depictions of crude racial jokes involving President Barack Obama or black celebrities such as golfer Tiger Woods. One shows a woman with a black eye and the caption, "Domestic violence. Because sometimes, you have to tell her more than once."
One of the racially offensive emails depicted a board game called "Black Monopoly" in which every square says "go to jail."
"These activities are a breach of trust. They are disgusting," said Miami-Dade State Attorney Katherine Fernandez Rundle. "Our goal is to make sure our office reviews with a fine-toothed comb all of these cases."
Rundle added that criminal charges are possible if any minors are depicted in the pornographic images. One officer also emailed an autopsy photo of a man fatally shot by police in 2011, possibly in violation of Florida law.
It wasn't immediately clear Thursday if Vasquez had an attorney to speak for him, and he has not been charged with any crime. Oates, who took over the department last summer, said the investigation shows these types of offensive actions and attitudes are no longer tolerated.
"I can't tell you how angry we are," Oates said. "We want to send a message to our officers and our employees that this kind of behavior is over."
Other police departments have recently uncovered officers involved with offensive emails, images and videos, including earlier this year in Fort Lauderdale when four officers were fired over racial videos and texts. The cases come amid a national debate about issues of race and law enforcement, including several instances of unarmed black men killed by police.
The Miami Beach investigation came to light only weeks before the annual Urban Beach Week event, which draws thousands of largely African-American young people to the area during the Memorial Day holiday.
"We are determined to get past this," Oates said. "There's new leadership in this department. We are addressing this problem."
The Associated Press contributed to this report.
Like us on Facebook
Follow us on Twitter & Instagram