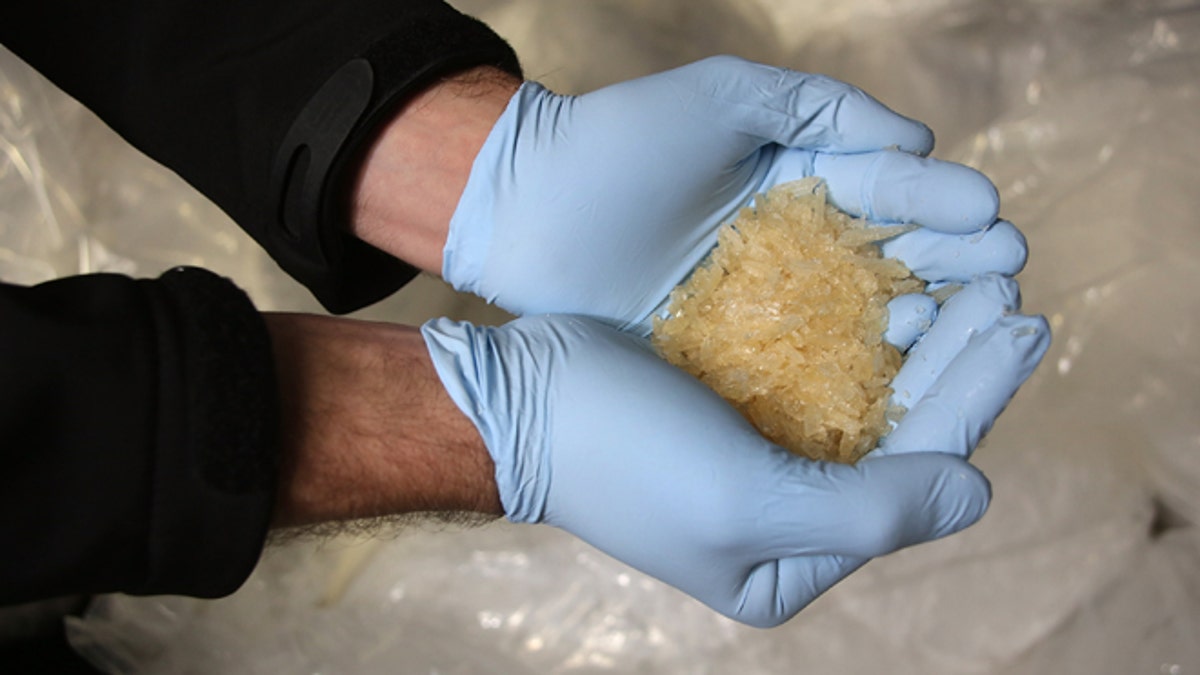 SAN DIEGO (AP) – Top leaders of Mexico's Sinaloa cartel smuggled huge amounts of methamphetamine and other drugs to the United States, according to indictments unsealed Friday that reflect the organization's recent success dominating criminal activity on California's southern border.
Ismael "El Mayo" Zambada and two of his sons are among five dozen people charged in 14 indictments. Another son has pleaded guilty in the same investigation, which began in 2011 by targeting a small drug-dealing ring in the San Diego suburbs of Chula Vista and National City and reached top leaders through the use of more than 200 wiretaps.
So far, 117 people have been charged in the investigation, which alleges the cartel smuggled Mexican methamphetamine and marijuana, as well as South American cocaine and heroin, across the U.S. border.
The elder Zambada, who is at-large, was a key target for U.S. and Mexican authorities well before last year's arrest in Mexico of Sinaloa cartel kingpin Joaquín "El Chapo" Guzmán. Zambada was charged in two other U.S. cases in 2009 filed in Chicago and Brooklyn, New York. Adam Braverman, an assistant U.S. attorney, said he is charged elsewhere in the country in cases filed under seal.
"We know for sure that Mayo is recognized as a leader. But it's hard for him to run day-to-day operations because he's definitely on the run. He's moving from place to place," said William Sherman, special agent in charge of the U.S. Drug Enforcement Administration in San Diego.
U.S. authorities said the elder Zambada is 64 years old and has four sons, including three who were charged in the San Diego investigation. Zambada is charged with continuing a criminal enterprise, which carries a maximum penalty of life in prison, and multiple counts of conspiracy. The indictment was filed under seal in July.
Ismael Zambada Imperial, who has been in Mexican custody since his November arrest, is said by U.S. authorities to be 30 years old and responsible for smuggling cocaine across the U.S. border and laundering money. Ismael Zambada Sicairos, who is at-large, is said to be 32 years old and responsible for making methamphetamine in Mexico, smuggling it across the U.S. border and money laundering.
Serafín Zambada pleaded guilty to drug trafficking charges last year in San Diego after his arrest at a Nogales, Arizona, border crossing. Vicente Zambada pleaded guilty to drug trafficking charges in Chicago in 2013.
The Sinaloa cartel, long one of Mexico's most powerful, has extended its grip in recent years to Tijuana, across the border from San Diego, defeating a longtime rival family.
U.S. authorities say the Sinaloa cartel used its new stronghold to orchestrate a surge of cheap methamphetamine into the country. U.S. inspectors seized 23,335 pounds of the drug at border crossings with Mexico in the 2014 fiscal year, more than double the 10,106 pounds discovered three years earlier. More than 63 percent seized last year at Mexico crossings was in California.
Those indicted are "family members and people that were being groomed to take over all future operations of the cartel," said the DEA's Sherman.
They include Alfonso Arzate, known as "Achilles," who is described by U.S. and Mexican authorities as a major figure in Tijuana, and his younger brother, Rene Arzate, who is known as "The Frog." Braverman said it is the first time the brothers have been charged in the U.S. Both men are at-large.