Mexico's all-out war with drug cartel threatens country's economic power center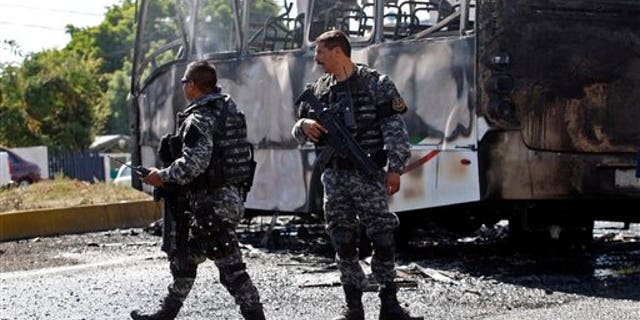 The cartel violence that has gripped Mexico in recent weeks is alarming to many in the country who are accustomed to shootouts in more remote outposts like Guerrero or the states that border the United States. But the Western state where federal forces have been waging an all-out war against the Jalisco New Generation Cartel is home to the country's second-largest city, Guadalajara, and home to key industrial and economic sectors.
This weekend, at least 15 people were killed – including three soldiers whose helicopter was shot down – and 19 injured in attacks in the state of Jalisco. Suspected members of the New Generation cartel, responding to the massive military and police operation against them, stopped buses and trucks to block key highways in Guadalajara and other cities and fire-bombed 11 banks and five gas stations in almost simultaneous attacks.
The strikes – brazen even in a conflict that has seen decapitated heads thrown on dance floors and lifeless bodies hung from bridges – are most notable not for the violence involved, but for whom they are targeting – namely, Mexican security forces in the economic power center of the country.
"What has put this on the front page is the willingness of the New Generation cartel to confront the government," Christopher Wilson, a senior associate at the Woodrow Wilson Center's Mexico Institute, told Fox News Latino. "It's all about reprisal. It's all about blow-back from the operation against them."
Mexico's government is going head-on against the cartel, whose leader, Nemesio Oseguera Cervantes, alias "El Mencho," is one of the country's richest drug lords, trafficking to Europe, Asia, Australia and South Africa, José Reveles, author of several books on drug trafficking, told the Associated Press.
He said the government has had to act against the cartel, with the urgency intensifying when gunmen for the cartel ambushed a state police convoy and killed 15 officers in April.
"Everything points to an increase in violence because there hasn't been a cartel this strong in the state since the 1980s," Reveles said.
The cartel is one of the new breeds of organized crime groups cropping up across Mexico in the wake of the government's war against the old guard of cartels – the Zetas, the Gulf and Sinaloa cartels, to name the largest. New Generation, which formed in 2010 following the splintering of the Milenio Cartel, was first established with express purpose of countering the Zetas, Now, it has begun targeting Mexican security forces.
In one instance last month, cartel members allegedly killed 15 state police officers and, later that day, murdered a municipal police director, leaving signs on his body warning of future attacks.
The explicit focus on armed government personnel – along with the fact that Jalisco is one of the country's economic and cultural hubs – means that dealing with the New Generation group has quickly become a priority for the government.
Jalisco, home not only to the commercial center of Guadalajara but also the beach resort of Puerto Vallarta, is a major producer of electronics and cybernetics.The state accounts for 6.3 percent of Mexico's gross domestic product.
"The criminal group responsible for today's events will be dismantled, as has happened to other organized crime groups," Mexican President Enrique Peña Nieto wrote on his Twitter account on Friday.
Two things were supposed to distinguish Peña Nieto's administration from that of his predecessor, Felipe Calderón: Reducing the violence related to the drug war, which has accounted for over 100,000 deaths since 2007, and making Mexico an economic and commercial powerhouse.
While he has had some success on both fronts – homicides in Mexico were down between 9 and 15 percent last year, and the country has attracted major outside investors in auto and oil industries – but the New Generation Cartel has challenged both goals, especially in such an important city as Guadalajara.
"This goes up against and threatens the message that Mexico is trying to push – that it is a vibrant economic power," David Shirk, professor of international relations at the University of San Diego and an investigator at the research group Justice in Mexico, told FNL.
Shirk added that this incursion into a high-profile urban area by a drug cartel is something that the Mexican government has dealt with before.
Monterrey, Mexico's third-largest city and arguably its most important economic hub after Mexico City, became a battle ground between the Zetas and Gulf cartels about five years ago. To drive them out it took a similar offensive by the country's security forces to the one happening in Jalisco now, as well as a decisive defeat of the Zetas by the Gulf Cartel.
The number of homicides and violent crimes in Monterrey have plummeted since. Shirk and others, however, warn that the situation in Guadalajara is likely to take a while before it gets better.
"It was very difficult, and it took a long time before things calmed down in Monterrey," Shirk added.
Jalisco is known as the birthplace of many of the country's most iconic symbols: Tequila and mariachis among them. But it also gave birth in the 1980s to the country's modern drug cartels.
The Tijuana, Juárez and Sinaloa cartels and many other organized crime groups all sprung from the Guadalajara Cartel. With access to good highways and rail routes as well as the Pacific Ocean, the city was, and is still, a prime area for shipping drugs to the U.S. and beyond.
Still there are hopeful signs for residents in Jalisco. One is that the violence that's engulfed the state recently still pales in scope to what was taking place in Ciudad Juárez and Tijuana a few years ago – or more recently in the states of Michoacán and Guerrero.
The second is that federal government forces are more likely to take decisive action in the region if they themselves are the ones being attacked.
"This is not a smart tactic," Wilson said of New Generation's attacks. "It's a hallmark of a quick burner. In Jalisco, this is not a place where you push the military and they will just roll over."
Experts say that for the New Generation Cartel to survive it needs to stop its attacks of security forces and learn to work behind the scenes instead of making front-page news.
"New Generation will need to keep a low profile to survive," Shirk said. "The kind of thing they're doing is not just bad for commercial business in Jalisco, it's also bad for their business."
The Associated Press contributed to this report.