Mexico tour bus crash leaves 12 dead, including 8 Americans, officials say
Eight Americans were among the 12 people killed when a bus carrying Royal Caribbean cruise ship passengers looking forward to a day at the Mayan ruins on Tuesday flipped over in southeastern Mexico, officials said Wednesday.
Two Swedes, one Canadian, and a tour guide from Mexico also died in Tuesday's bus crash, Mexican officials confirmed. The bus driver was injured and taken into custody, said the Quintana Roo state government. The U.S. State Department initially said "multiple U.S. citizens" died. Those included a Florida grandmother, according to the Sun Sentinel.
"We express our heartfelt condolences to all those affected by this tragedy. We are in contact with local authorities, and will continue to monitor the situation. We have staff on the scene and at local hospitals to assist victims and loved ones," the State Department said in a statement.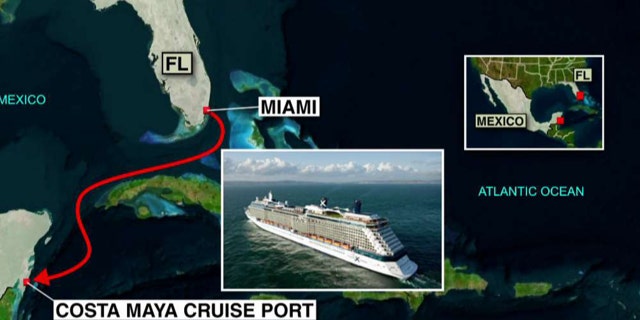 The bus carrying 31 people — 27 of them passengers of Royal Caribbean's Celebrity Equinox and Serenade of the Seas — were heading to Chacchoben, about 110 miles south of Tulum, from the port at Mahahual just after 9 a.m. when it crashed on a narrow, two-lane road with no shoulder or guardrail. The convoy of buses left the port and were on the road for nearly an hour.
A preliminary investigation into the crash found the accident was caused by the bus driver's negligence and possible speeding, Mexican state prosecutor Miguel Angel Pech Cen said Tuesday.
Benjamin Shababo, 18, told the Sun Sentinel that his grandmother, Fanya Shamis, was killed. His added that his cousin may also have died.
"We don't have really concrete information," Shababo said. "We're all scared. It's just really scary to process this in my head that possibly something really bad happened to them."
Four Americans, four Brazilians and three Canadians were among the 18 injured. Two other Swedes were wounded and transported to the United States for treatment. Seven others who were slightly injured had returned to their cruise ship on Tuesday after the crash.
"The news from Costa Maya about a bus accident involving #CelebrityEquinox & #SerenadeoftheSeas guests is heartbreaking. Our hearts go out to all those involved. We are doing all we can to care for our guests, including assisting with medical care and transportation," the cruise line said in a tweet.
Chris Brawley, a passenger on the Serenade of Seas, was on a bus headed to the same Mayan ruins when they came on the scene minutes after the crash.
"The bus clearly lost control somehow as there were swerve marks all over the road surface," Brawley said, adding that the driving conditions were dry and it was clear skies that morning.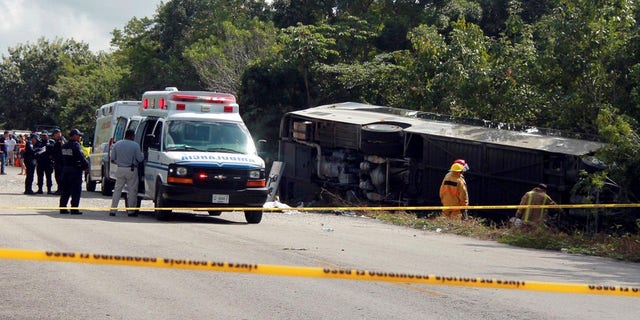 Brawley, of Haslet, Texas, said his ship departed Fort Lauderdale, Florida, on Friday for a seven-day cruise. They were in Roatan, Honduras, on Monday and were scheduled to be in Cozumel on Wednesday.
Video from the scene showed the bus on its side in the vegetation. Some passengers were lying on the pavement while others were walking around. One body lay on the roadside covered by a white sheet or other object, as the crash scene was cordoned off with yellow police tape.
The U.S. Embassy in Mexico City said it was aware of reports of Americans injured in the crash. Investigators are working to determine the cause of the crash. U.S. Consulate in Merida was ready to provide assistance.
Costa Maya Mahahual, the bus company involved, said in a statement that in addition to the tourists, a guide and driver were aboard the bus.
The Associated Press contributed to this report.