Mexico Prison Riot Staged by Zetas as Cover for Mass Escape, Officials Say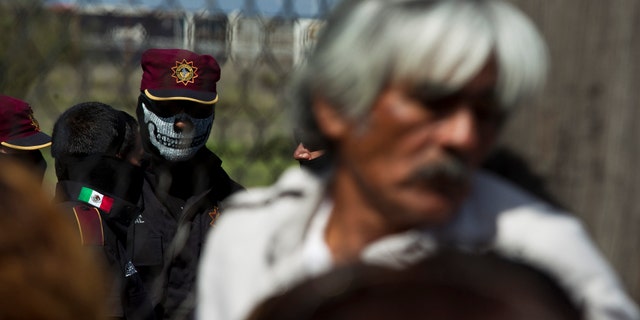 MONTERREY, Mexico – Mexico's most violent prison riot in five years provided cover for 30 inmates linked to the Zetas drug gang to escape, apparently with the help of jail guards, officials in northern Mexico said Monday.
Imprisoned members of the hyper-violent Zetas drug cartel allegedly stabbed and bludgeoned 44 members of the rival Gulf cartel to death as part of a mass escape plan.
Rodrigo Medina, governor of the northern state of Nuevo León, said the prison's director and three other officials have been fired and are under investigation for purportedly helping in the escape. The same was done with 18 prison guards.
"Unfortunately, a group of traitors has set back the work of a lot of good police," Medina told a news conference. "The most important thing is to make sure that the people working on the inside are on the side of the law, and that they not be corrupted and collaborate with the criminals, as the investigations indicate they presumably did."
Honduran Prison Fire Tragedy Could Occur Anywhere in the Region
Medina did not say how the escape was carried out, but he noted that no members of any gang had broken into the prison to spring their colleagues, as has happened at other Mexican prisons. Nor were any firearms smuggled into the facility; all of the deaths apparently occurred with blunt instruments or improvised knives.
Medina confirmed that all 30 escaped inmates were linked to the Zetas cartel, a brutal gang founded by deserters from an elite Mexican military unit.
He did not say what crimes the escaped inmates had been convicted of, but said 25 of the 30 were in the prison on federal charges, which often involve drug trafficking or illegal weapons possession. Medina offered a reward of 10 million pesos (almost $800,000) for information leading the arrest of those involved in the mass escape.
Medina did not say whether the riot and murders were carried out to cover up the jailbreak, but said the mass escape appeared to have been planned, and may have involved help from authorities at a specific point along the prison perimeter, known as Tower Six.
Feet to the Fire -- Best Pix of the Week
The Zetas and Gulf cartels were allies before splitting in 2010 and they have been fighting turf battles in Monterrey and elsewhere in northeastern Mexico.
Medina repeated a complaint often voiced by governors in northern Mexico, where violent drug cartel suspects are often lodged in state prisons that are overcrowded and don't meet the standards of the country's few maximum-security federal lockups.
"It would be very good for the state if a large number of federal inmates are transferred out, in light of the overcrowding we have," Medina said, noting that a lot of the inmates "are very highly dangerous."
Prison guards in Mexico are vulnerable to corruption; they are poorly paid and in many cases, they and their families are vulnerable to threats because they live in the same poor neighborhoods where the cartels operate.
The prison is located in Apodaca, a part of the Monterrey metropolitan area that is Mexico's third-largest and that has long been the country's symbol of development and prosperity.
All 2,500 inmates in the prison were incarcerated for federal crimes, and as many as 70 percent had yet to be convicted. The inmate population there grew by 1,500 in the last year to 180 percent of capacity, the result of a crackdown on organized crime and drug trafficking in the last year.
Medina said about 60 percent of inmates in local lockups across the state are facing federal charges.
Deadly fights happen periodically in Mexico's prisons as gangs and drug cartels stage jail breaks and battle for control of penitentiaries, often with the involvement of officials. Sunday's riot was one of the deadliest so far.
Thirty-one prisoners died in January during a prison riot in the Gulf coast city of Altamira in Tamaulipas state, which borders Texas. Another fight in a Tamaulipas prison in the border city of Matamoros in October killed 20 inmates and injured 12.
Last July, a riot at a prison in the border city of Juarez killed 17 inmates. Mexican authorities detained the director and four guards over that clash. Surveillance video showed two inmates opening doors to let armed prisoners into a room where the slain victims were reportedly holding a party.
Twenty-three people were killed in a prison riot in Durango city in 2010, and a 2009 riot in Gomez Palacio, another city in the northern Mexican state of Durango, killed 19 people.
More than 47,500 people have been killed in drug-related violence since 2006, when President Felipe Calderon intensified Mexico's crackdown on organized crime.
Families of prisoners protested outside the prison because they couldn't get information on the victims. Only 10 of the dead had been identified by late afternoon.
The Apodaca prison was also the scene of a fire last May that killed 14. Officials then said the blaze could have been caused by a short circuit, not a prisoner uprising.
Based on reporting by the Associated Press.
Follow us on twitter.com/foxnewslatino
Like us at facebook.com/foxnewslatino