Mexico investigates pipeline blast that killed 28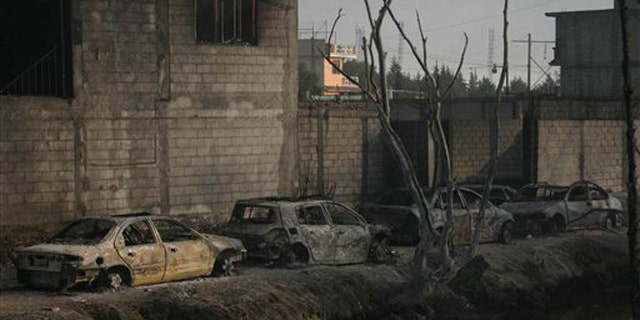 SAN MARTIN TEXMELUCAN, Mexico – Zoyla Perez awoke before dawn to a strange, overpowering smell, like gasoline. Outside the ground looked as if it were flowing in tar, as crude gushing from a pipeline rushed down the street and into a river.
Suddenly flames leapt skyward as a massive explosion laid waste to parts of this city in central Mexico, incinerating people, cars, houses and trees.
"It was like we were living in an inferno," said Perez, 27. "Everything was covered in smoke."
At least 28 people were killed, 13 of them children, in a disaster authorities blamed on oil thieves. At least 52 people were hurt and 84 remained in a shelter late Sunday after fleeing San Martin, which is about 55 miles (90 kilometers) east of Mexico City. More than 115 homes were scorched, 32 of them destroyed.
Though Perez managed to escape with her husband and three children, her brother-in-law's family was missing. People sobbed as firefighters pulled charred bodies from the incinerated homes, some of the remains barely more than piles of ashes and bones.
Authorities, including President Felipe Calderon, said the explosion was apparently caused by thieves trying to steal crude oil, and local, state and federal agencies promised to stop at nothing to bring whoever is responsible to justice. There were no immediate arrests.
The blast in San Martin Texmelucan, initially estimated to have affected 5,000 residents in a three-mile (five-kilometer) radius, left metal and pavement twisted and in some cases burned to ash in the intense heat.
Investigators found a hole in the pipeline and equipment for extracting crude, said Laura Gurza, chief of the federal Civil Protection emergency response agency.
Thieves "lost control because of the high pressure with which the fuel exits the pipeline," said Valentin Meneses, interior secretary for the state of Puebla, where San Martin is located.
Several dead bodies were found in cars near the location of the leak, but authorities didn't know if they were involved in the theft or there by coincidence.
The oil flowed more than half a mile (one kilometer) from the leak down a city street before diverting into a river. At some point a spark of unknown origin caused both to erupt in flames.
Jose Luis Chavez, 58, who lives 10 blocks from the explosion, said he heard at least two loud booms and saw flames leap more than 30 feet (10 meters) in the air, as if a bomb had exploded underground.
Calderon toured the disaster area Sunday, talking with displaced people in a shelter and visiting the injured in a hospital. Earlier, he expressed condolences to the families of the dead and his support for those injured and affected.
Interior Minister Francisco Blake Mora mobilized several federal ministries to help victims with medical care, shelter and recovering their lost homes and property.
San Martin Texmelucan is a city of about 130,000 people, according to 2005 government figures, in view of Central Mexico's spectacular volcanos, Popocatepetl and Iztaccihuatl. Farming is important to the area's economy, along with a manufacturing sector that makes chemical and petrochemical products, pharmaceuticals, textiles and metals, the city's website says.
State-owned oil company Petroleos Mexicanos, or Pemex, said in a statement that it had shut down the pipeline.
Pemex has struggled with chronic theft, losing as much as 10 percent of all of its product. Criminals tap remote pipelines, sometimes building pipelines of their own, to siphon off hundreds of millions of dollars' worth of oil each year, Pemex has said.
There have been 100 such illegal taps this year all along the pipeline that exploded Sunday. It runs from Veracruz, a heavy oil-producing Gulf coast state, to Mexico state outside the capital, said Juan Jose Suarez, Pemex director general.
Suarez also reported 60 illegal taps on the pipeline in the area of Sunday's disaster, and 580 nationwide this year. He said such illegal taps cause leaks in only 3 to 4 percent of the cases.
In 2009, the U.S. Justice Department said U.S. refineries bought millions of dollars' worth of oil stolen from Mexican government pipelines and smuggled across the border in illegal operations led by Mexican drug cartels expanding their reach.
Two Texas oil company officials were sentenced to probation in September for their roles in the sale of petroleum products stolen from Mexico.
Pemex sued five companies in the U.S. in June for allegedly buying stolen Mexican petroleum products.
Also in June, police arrested 13 people who they said excavated a 500-foot (150-meter) tunnel under a busy neighborhood in Mexico City to steal fuel from oil company pipelines.