Mexico experts: Outdated drain caused July's deadly sinkhole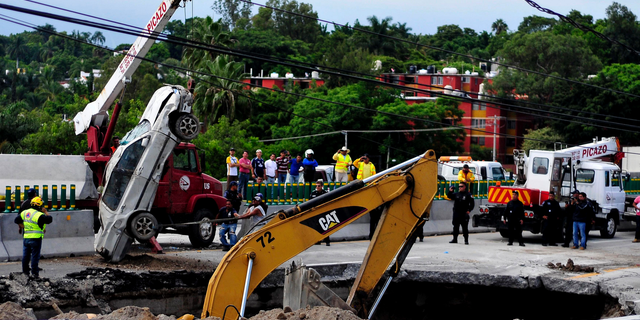 MEXICO CITY – A panel of experts in Mexico has determined that an old drainage pipe was to blame for a sinkhole that killed two men last month.
It concludes that the 34-year-old drain was not replaced when an expanded highway was built on top of it. The drain became clogged, and water backed up and apparently washed away the earth beneath the road.
Mexico's highways director cites "mistakes and omissions in the supervision and building" of the highway expansion.
Clemente Poon said Thursday that the mistakes were made by "the companies responsible (for the project) and public servants."
The sinkhole spanning two lanes opened in July near Cuernavaca, on the highway connecting Mexico City and the Pacific coast resort of Acapulco. The victims died after their car fell into the void.