Mexico drug lord told to pay $1M in DEA agent's 1985 murder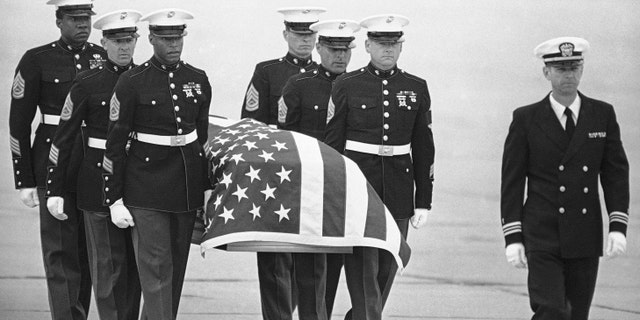 MEXICO CITY – A federal judge has ordered a drug lord convicted in the 1985 killings of a U.S. Drug Enforcement Administration agent and a Mexican government pilot to pay relatives of the victims nearly $1 million in compensation, officials said Friday.
The Federal Judicial Council announced the 20.8 million peso penalty in a statement without naming any of the parties involved.
But a judicial official confirmed that the order is directed at Ernesto "Don Neto" Fonseca Carrillo, co-founder of the Guadalajara cartel, for the case of the kidnapping, torture and killing of DEA agent Enrique "Kiki" Camarena.
The official was not authorized to discuss the matter publicly and spoke on condition of anonymity.
Fonseca, 86, was transferred from prison in July to serve the remaining nine years of his 40-year sentence under house arrest due to his advanced age and ill health.
The ruling orders 10 million pesos (about $466,000) to be paid within five days to Camarena's son, and a similar amount to the wife and five children of the pilot.
Two other drug bosses have also been convicted in Camarena's killing.
Guadalajara cartel co-founder Rafael Caro Quintero was sentenced to 40 years, but he was mistakenly released in 2013 and is currently a fugitive.
Miguel Angel Felix Gallardo remains behind bars for his role in the case.