Mexican President Peña Nieto taking political gamble inviting Trump, experts say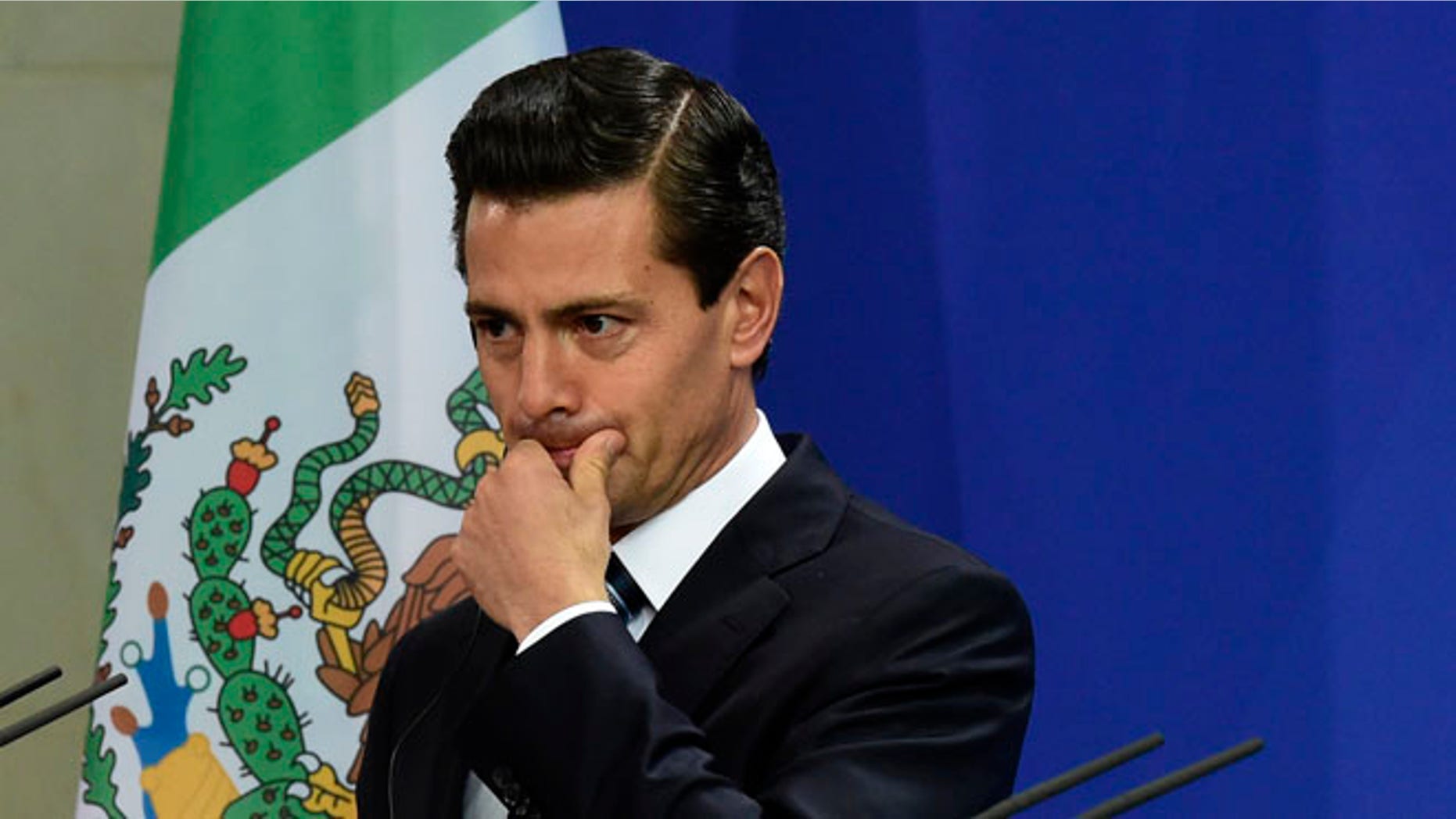 MEXICO CITY – Mexican President Enrique Peña Nieto took a sizable gamble when he invited Republican presidential nominee Donald Trump to Palacio Los Pinos, analysts say.
Nearly two-thirds of the way through his presidency, his administration has been stung by a string of scandals as well as reports of alleged torture and human rights abuses by police and troops. And protests by dissident teachers continue to challenge, almost on a daily basis, the educational reforms he claims as a major achievement.
"I think it's a gamble from Peña Nieto's side at a time when he faces the lowest popularity any Mexican president has ever faced," said Grant Sunderland, a Mexico analyst at Verisk Maplecroft, to Fox News Latino.
"I think he's trying to present himself as a statesman and rebuild his credibility," he said.
Many observers say the invitation seems to be just a desperate ploy, taking place just a day before he is slated to deliver his annual address to Congress.
Seventy-four percent of respondents disapproved of his handling of the country, according to a recent survey published by the newspaper Reforma. His approval rating is at 23 percent, the worst for any Mexican president since the paper began conducting the poll 21 years ago.
Jason Marczack, director of Latin America Economic Growth Initiative, a Washington D.C.-based think-tank, said Peña Nieto's decision to invite Trump was ill advised.
"Enrique Peña Nieto is dealing with low popularity and new scandals. This [meeting] will just further incentivize his critics," Marczack told FNL.
"I only see the visit as harming his popularity further. I question whether there's even one Mexican who supports this meeting with Donald Trump today," he added.
Trump's campaign has mostly focused on a simplistic narrative that bilateral trade is a zero-sum game and that U.S. companies that build factories in Mexico are killing jobs and hurting the U.S. economy.
However, most economic research shows that the relationship between the two countries is complex and in many ways positive.
"I think there's a lack of understanding with the way trade works with Mexico. There's talk of trade deficit with Mexico but the reality is that products cross the border multiple times before final assembly," Marczak explained.
In many ways, analysts say, a strong Mexican economy is good for the U.S.
Mexico already buys more U.S. goods than Brazil, Russia, India, and China combined.
Every day, the U.S. exports to Mexico more than a billion dollars-worth of goods. At the same time, companies that combine production on both sides of the border have built highly competitive operations that are able to out-compete foreign firms and create jobs in the U.S.
The benefit of fostering ties with Mexico has been recognized by mayors and governors in the U.S. border region, who actively work to cultivate relationships with their counterparts in Mexico. But the GOP presidential hopeful has moved in the opposite direction since he launched his presidential bid more than a year ago -- his succinct slogan may well be "Don't do business with Mexico!"
Many say the businessman's impromptu visit is an effort to look presidential and demonstrate to the American people he is indeed able to deal with foreign leaders.
In the long term, however, it's hard to see the meeting as having a positive impact on Peña Nieto.
"Few people have had much influence over Trump so it's hard to imagine that a two hour conversation will change his views on immigration or Mexico," said Sharon O'Neill, a Mexico expert from the Council on Foreign Relations in New York.
"I have a hard time seeing what the upside is for Peña Nieto, especially given the hostility toward Mexico and Mexicans that Trump's displayed in the past year," she told FNL. "It's hard to imagine an outcome that leads to [a] different relationship," she added.
The AP contributed to this report.