Mexican journalists who live under threat from drug cartels take Paris attack personally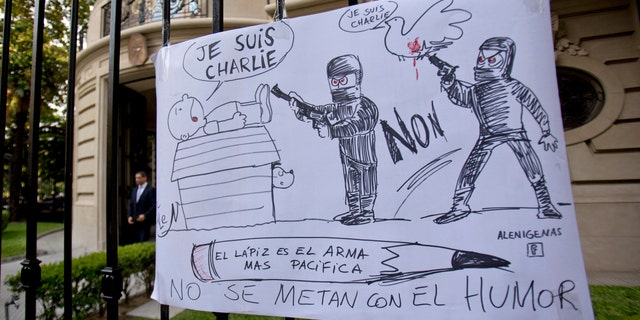 NEWYou can now listen to Fox News articles!
The terror attack on Wednesday in Paris leaving 12 people dead at the satirical newspaper Charlie Hebdo has even shocked hardened journalists in Mexico who consistently work under the constant threat of terror covering drug trafficking and organized crime.
"I just didn't think that it could go to this extreme," said Javier Garza, who worked at Mexico City's Reforma newspaper and was editorial director of El Siglo de Torreón in northern Mexico from 2006 and 2013. "We had 13 reporters killed in Mexico in two years, that's one more than got killed in one day in Paris."
The vicious and barbaric murders of an entire editorial staff in their offices in France – has left an indelible mark on Garza's colleagues who consistently put their lives at risk covering beheadings, hangings, and mass kidnappings.
"It was something that hit me very personally, the images were just shocking," said Lucy Sosa, one of the top reporters for El Diario de Juarez in Ciudad Juarez, once deemed the murder capital of the world. "The magnitude of the aggression was just incredible."
Over the last 14 years, over 70 journalists have been killed or have disappeared in Mexico at the hands of cartels trying to intimidate journalists and prevent them from covering murders and corruption cases that link government officials to cartel members. Making matters worse, more than 90 percent of crimes against journalists in Mexico are committed with impunity – rarely resulting in any convictions.
The unfortunate result of these threats and attacks, according to Garza, is self-censorship, which he and others say is prevalent and undermines democracy and freedom of expression. The Committee to Protect Journalists says at least 20 cities in Mexico are considered silent cities – almost completely self-censored because of fear of attacks.
"Deep down, these terrorist groups and drug cartels are the same thing, they use violence to try to impose certain coverage or point of view," Garza said.
Garza said he doesn't blame journalists in Mexico for quitting, or even for practicing self-censorship. As a matter of policy at El Siglo, which was under constant threat of the cartels, his staff took extra precautions not to exaggerate news reports and constantly asked themselves whether publishing a story was worth the risk of death or kidnapping. His staff developed safety precautions such as not traveling to stories alone and not arriving to the scene of a crime until it was secured by police.
He hopes, however, that media in France and all over the world follow the example of the Mexican journalists who continue to not be intimidated by cartels.
"Don't go into self-censorship even though it's your knee-jerk reaction," Garza said. "Really think about and really assess your risk. Reflect on the dangers you are facing. What type of attack are you facing once you think about it?"
Sosa has lost four colleagues and friends at the hands of cartels, including a reporter and a photographer murdered in 2008 and 2010, respectively. Sosa has been covering police activity and security in Ciudad Juarez but says she refuses to let terror intimidate her.
"I don't see myself doing anything else," Sosa said. "The conviction to do my job is greater than the fear of death."
Over the last two years, Mexican journalists and bloggers have been attacked 213 times, 13 journalists have been murdered, and nine reporters have disappeared, according to the Washington, D.C.-based International Center for Journalists.
Jorge Luis Sierra, the director of ICJ's Knight International Journalism Fellowship Program, says what is even more disconcerting over the last two years is that the veracity and the tactics used to intimidate and attack journalists has escalated. In the past two years, Mexico has had 16 attacks where explosives, assault weapons, grenades and assault rifles were used.
There is also a trend of increased cyberattacks by cartels who are hacking email accounts of news organizations as a means to gather intelligence on journalists, find out who their sources are and keep tabs on their whereabouts. In some instances, newsrooms have been broken and computers stolen.
In Veracruz in 2011, a group of unidentified men with assault weapons entered a newsroom of the daily El Buen Tono and vandalized equipment before setting the building on fire.
"The cartels and terror are winning in small communities, even in states where they can control local police while controlling media organizations," Sierra said. He said 20 cities along the border, including Nuevo Laredo, Matamoros, and states like Michoacán, have come under control of the drug cartels.
"The attacks on journalists by drug traffickers are a way of imposing terror," said Sierra, who was an award-winning investigative journalist in Mexico.
Despite cartels operating with impunity in Mexico, journalists say, reporters continue to do their jobs and citizens have taken to creating anonymous Twitter accounts to bring information to the public.
Mexican journalists say as long as journalists in France and in Europe stand by their values and continue to stand up to terror, they can set an example for the world.
"We are with France," Sosa said. "We cannot permit terrorist to assassinate journalism."