Mexican governor, family confirm three American siblings found dead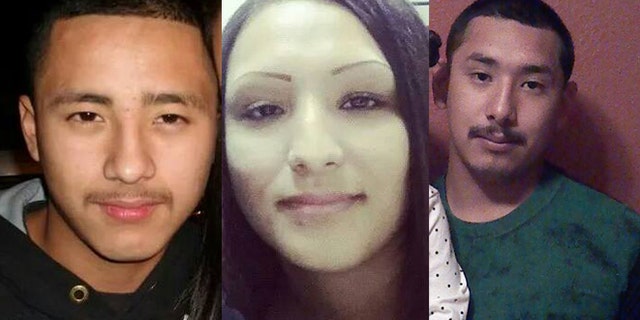 Three American siblings missing in northern Mexico for more than two weeks have been found dead near Matamoros, the family has confirmed to Fox News Latino.
The bodies were badly decomposed, each had one bullet wound to the head, their hands were tied, and they had sun burns.
Tamaulipas State Attorney General, Ismael Quintanilla Acosta, told Radio Formula that the father, Pedro Alvarado, identified the bodies from photographs where tattoos were shown.
Erica Alvarado Rivera, 26, and her brothers Alex, 22, and Jose Angel, 21, went missing on October 13th while visiting their father in Matamoros from Progreso, Texas. The distance between the two cities is about 30 miles.
Their bodies were found east of the border city of Matamoros Wednesday morning, along with a fourth body. The fourth person is Erica's boyfriend, 32-year-old Jose Guadalupe Castaneda Benitez, a Mexican national whom she dated for about a year. Erica is the mother of four children ages 3-9, and had been scheduled to begin studying to become a nursing assistant next month.
"We just want justice because they were nice, outgoing human beings, they liked to help people out," Nohemi Rodriguez, an aunt to the victims told FNL. "These are my nephews and it really hurts. I don't have words to tell my sister. I'm trying to be strong for her."
The victims' mother, Raquel Alvarado, and her grandkids are driving to Mexico Thursday night.
Brothers Jose Angel and Alex were migrant farm workers and were scheduled to be in Missouri by now. The boys would divide their time between their divorced parents - spending two or three weeks at time with their father in Mexico, helping out around his mechanic shop.
As reported by the Associated Press, Raquel Alvarado said witnesses saw armed men dressed in police gear seize her daughter and sons in El Control, a small town near the Texas border west of Matamoros.
The mother said Erica Alvarado drove her black Jeep Cherokee across the border Oct. 12 and dropped it at her father's house in El Control. She visited her boyfriend there and the next morning called her brothers to ask them to bring the Cherokee to a roadside restaurant where the couple was eating. The three siblings planned to return to Progreso together from there.
When Alex and Jose Angel Alvarado arrived to pick up their sister, they saw men "pushing their sister and her boyfriend and hitting her," the mother said.
Witnesses said the brothers tried to intervene, but they were taken away by armed men who identified themselves as part of Grupo Hercules, a recently formed police security unit for Matamoros city officials, and were traveling in military-style trucks. Alvarado said witnesses also saw federal highway police, "but no one did anything."
According to Rodriguez, about ten witnesses told Pedro Alvarado that two military-style trucks had the name of the city's Mayor, Leticia Salazar, on them. The men threatened witnesses to keep silent or else, Rodriguez said.
"A parent shouldn't have to lose their children, our heartfelt sympathies go out to her and the families," said Rep. Filemon Vela, (D-TX), who represents the district where the family lives, to FNL.
He said since violence in Mexico hit a head life along the border has changed. "Ten years ago people were traveling across the border all the time, people do it to a lesser degree now because things aren't like they used to be," he explained.
In a country riveted by the case of 43 students missing more than a month at the hands of police in southern Mexico, Tamaulipas' governor promised swift action in this case.
"We will apply the full force of the law and zero tolerance," Tamaulipas Gov. Egidio Torre Cantu said, lamenting the death of three Americans and a Mexican citizen even though their identities had not been officially confirmed by DNA.
"The Federation of Tamaulipas is asking that President Enrique Pena Nieto investigate and assure to the citizens of Matamoros that there is going to be justice," said Gerardo Acevedo Danache, a consultant and former VP of the Federation of Chambers of Commerce in Tamaulipas, to FNL.
Acevedo rushed to be by Raquel Alvarado's side at her home in Texas as she learned of the death of her three children.
"We need to know who ordered the killings, who kidnapped these people, and we need justice. This is a crucial moment, given what's happening with the missing 43, and we need to get to the bottom of this it seems like it's a domino affect."
Grupo Hercules
A September 7th news release from the city about Hercules showed an armed force in fatigues and face paint. Mayor Salazar officially introduced Hercules as a group with particular skills to confront crime in high-risk operations.
The statement named city clerk Joe Mariano Vega as its commander. A message left at his office was not returned. In an interview earlier this year, Vega said Hercules was made up of former marines and soldiers who would police hot zones for crime in the city's neighborhoods.
However, in Matamoros this week it was difficult to get clear answers about Hercules.
Salazar has been photographed with them in her own matching uniform and beret, but she did not return messages left in person at her office by The Associated Press. Neither did the city's spokeswoman.
"We want the mayor to explain to lawmakers what the real position and the legal basis of the "Hercules" group is, because this killing cannot go unpunished because it is an fact unfortunate that happened," said Tamaulipas left-leaning Congressman Jorge Valdez to El Universal.
Like other border cities in Tamaulipas, Matamoros has not had a municipal police force in years. The federal government took their weapons and confined them to barracks in an effort to root out corruption. Matamoros has since been policed by a mixture of marines and soldiers and state and federal police.
Juan Sanchez Alvarado, who is in charge of the city's public security office and director of its transit police, said Wednesday that the members of the Hercules unit provide security for city officials and nothing else. He said they were accredited by state police in the Tamaulipas capital of Ciudad Victoria and formed some time earlier in 2014.
Asked who they answer to, Sanchez seemed puzzled. They do not answer to him, he said. He said he imagined they answer to whichever city officials they happen to be guarding. He also couldn't say how many members of Hercules there are, where they are based or who their commander is.
Sanchez did say, "I haven't received any complaint related to them."
The Associated Press contributed to this report as well as reporting from Fox News Latino's Bryan Llenas.
Follow us on twitter.com/foxnewslatino
Like us at facebook.com/foxnewslatino