Mexican Drug Smugglers Go Underground With Surprisingly Sophisticated Tunnels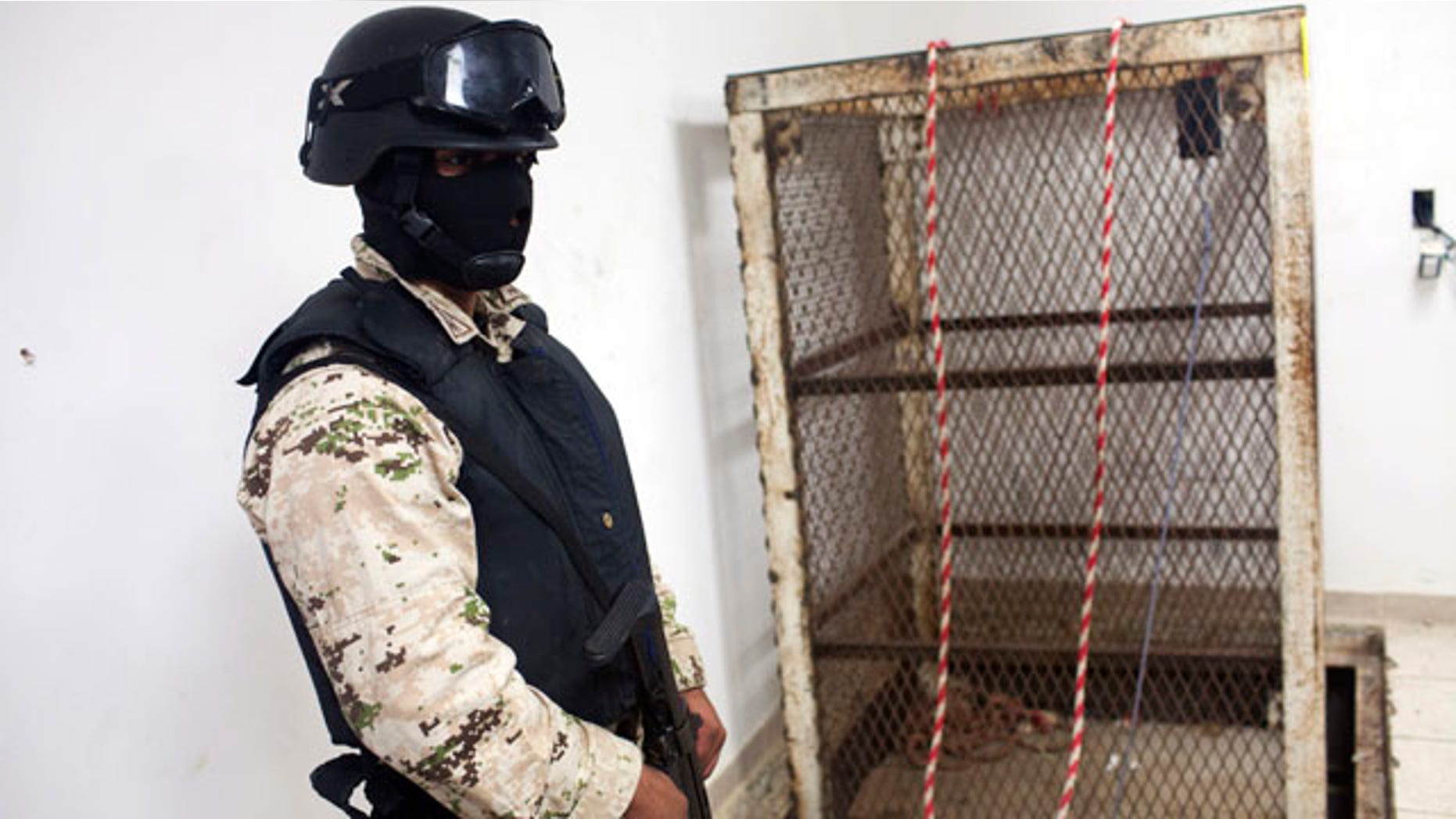 Authorities in U.S. and Mexico have been uncovering cross-border drug smuggling tunnels with surprising frequency, and these passageways are much more than simple holes in the ground.
With the crackdown on drug smugglers intensifying above ground, with the drug war in Mexico and tighter border security in the United States, the smugglers have stepped up the sophistication of their underground routes, some with elevator shafts and rail tracks -- and a construction cost to match.
More than 100 tunnels have been discovered during Mexico President Felipe Calderon's five years in office, double the number found during the previous 15 years, Reuters reports.
Officials suspect the most recently found tunnels belong to the Sinaloa cartel, which has been building the underground smuggling routes for two decades. The most recent discovery last week, the Mexican Army found a 50-yard-long tunnel starting under a building in the northern Mexico city of Nogales, which is across the border from Nogales, Ariz.
"It's evident that those who constructed these tunnels are specialists, not only for the size but also because it requires study of the soil to prevent it from caving in," Gen. Gilberto Landeros, a Mexican Army commander, told Reuters. "The machinery they use for construction is really sophisticated."
That tunnel, Reuters reports, featuring a hydraulically controlled steel door, elevator and electric rail tracks, was constructed by the Sinaloa cartel, which controls the California-Mexico border area where the bulk of the subterranean passages are found, Landeros said.
U.S. Immigration and Customs Enforcement officials are trying to shut the smuggling tunnels down, working with the few companies that have the technology to dig horizontal shafts to prevent new tunnel construction, Reuters reports.
"It's super fast, it's really actually scary," Tim Durst, assistant special agent in charge of ICE's San Diego office, told Reuters. "You can have a tunnel done in a couple of weeks."
The drilling equipment alone can cost up to $75,000, and a well-built tunnel can be used to transport 25 tons of drugs in just one or two days, Durst said.
"If it's the Sinaloa cartel, they have unlimited resources," he continued.
A tunnel discovered late last month linking warehouses in San Diego and Tijuana  was equipped with lighting and ventilation. It stretched 600 yards, and Wooden planks lined the floor about 40 feet underground. It resulted in seizures of 32 tons of marijuana, one of the largest pot busts in U.S. history.
"This is an incredibly efficient tunnel designed to move a lot of narcotics," said Derek Benner, U.S. Immigration and Customs Enforcement's special agent in charge of investigations in San Diego told the Associated Press.
Authorities recovered nearly 17 tons of marijuana at the warehouse in San Diego's Otay Mesa area, nearly 12 tons inside a truck in Los Angeles and about 4 tons in Mexico. Six people were charged in federal court in Southern California with conspiracy to distribute marijuana.
Earlier raids on two tunnels linking San Diego and Tijuana netted a combined 52 tons of marijuana on both sides of the border.
Part of this may be seasonal. For three years, authorities have found sophisticated tunnels shortly before the winter holidays in what officials speculate is an attempt by drug smugglers to take advantage of Mexico's fall marijuana harvest.
In early December 2009, authorities found an incomplete tunnel that stretched nearly 900 feet into San Diego from Tijuana, equipped with an elevator at the Mexican entrance.
"If they can't cross the border above ground, they attempt to tunnel underneath it," said Laura Duffy, the U.S. attorney in San Diego, told the Associated Press.
Authorities say central Mexico's marijuana harvest in early October presents drug cartels with a familiar challenge for any farmer: how to quickly get products to consumers.
"It's a significant amount of inventory that the cartels need to move and they need to move it in the most expeditious and efficient way," Benner said. "It's like any other business. You've got a pile of inventory that you need to get moving and generate profits."
The Associated Press contributed to this report.