Mexican authorities confirm 'Chapo' Guzman's son among those abducted, some fear cartel war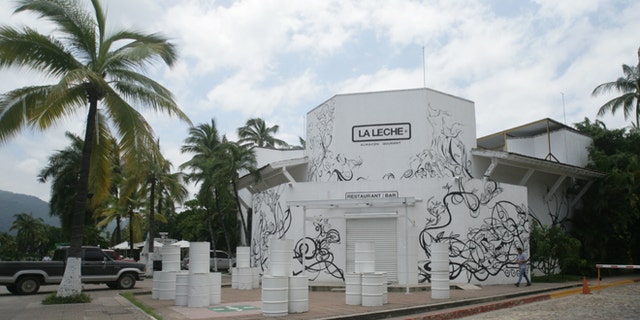 NEWYou can now listen to Fox News articles!
Mexican authorities confirmed Tuesday that one of the sons of the drug kingpin Joaquin "El Chapo" Guzman was among the half-dozen men abducted by gunmen at a restaurant in Mexico's beach resort area of Puerto Vallarta over the weekend.
Jalisco state Attorney General Eduardo Almaguer said 29-year-old Jesus Alfredo Guzman Salazar had been determined to be among those taken, though authorities still had not received any missing person complaints.
"The person by the name of Jesus Alfredo Guzman Salazar, age 29, is the son of Joaquin Guzman Loera," Almaguer said at a news conference. His abduction "has been confirmed by what was found in the vehicles and what security agencies found and the forensic examinations performed."
Earlier in the day, Almaguer had said authorities were trying to confirm whether another Guzman son, Ivan Archivaldo Guzman, was among those abducted.
He said later that authorities had identified four of the six men marched out of the upscale restaurant by seven armed assailants. He did not say whether Ivan could be one of the two still not identified.
Almaguer said the kidnappers were from the rival Jalisco New Generation cartel.
This "gusty" move by the gunmen of a rising drug cartel to abduct Guzman's son is raising alarms of a possible wave of bloodshed as it challenges his Sinaloa Cartel. It appeared to be the latest blow aimed at undermining the jailed drug boss, coming shortly after reports that gunmen invaded the home of his mother in northern Sinaloa state.
The Jalisco gang's power and reach have grown rapidly in recent years, often in direct competition with Guzman's cartel, which has long been considered the strongest criminal organization in Mexico.
"It could indicate an escalation," Samuel Logan, managing partner at the business and security consulting firm Southern Pulse, said of the kidnapping. "That's a pretty gutsy move."
Almaguer said seven armed men interrupted a celebration by 16 people at the upscale La Leche restaurant in Puerto Vallarta's hotel zone around 1 a.m. Monday. They separated the nine women to one side and took away the seven men, one of whom apparently escaped, he said. Authorities said they had not heard of anyone demanding a ransom.
The Jalisco cartel made a name for itself with brazen attacks on authorities in Jalisco, but it has also established itself in areas as distant as the Gulf state of Veracruz and Baja California Sur.
"It doesn't surprise me that they would push to escalate this to the next level," Logan said. "And if anything I think it will be the next week to 10 days are going to confirm that. These guys aren't going to wait around to push back."
It would be the latest sign the Sinaloa cartel's dominance is not what it once was. "El Chapo" purportedly ran affairs from prison until his second escape in 2015, but since being recaptured has been kept under stricter security measures and is currently in prison in the northern border city of Juarez.
Other affronts against the legendary drug capo have been reported in recent months. In June, local media said an armed gang broke into the home of Guzman's mother and stole vehicles and other goods.
"There is a war right now for control of the Sinaloa cartel and a central theme in that war is the issue of attacks on his family," said Raul Benitez, a security specialist who teaches political science at the National Autonomous University of Mexico.
Jesus Alfredo Guzman has long been on the radar of authorities. In 2009, he was indicted on U.S. drug trafficking charges in Chicago along with his father and other Sinaloa cartel leaders.
In 2012, the U.S. Treasury Department designated him under the Foreign Narcotics Kingpin Designation Act as assisting his father in drug trafficking. That same year, Mexican marines mistakenly arrested a used car salesman and presented him to the press as Jesus Alfredo.
Almaguer said authorities were still working to confirm the identities of two of the six men taken. Rumors continued to swirl that Jesus Alfredo's older brother, Ivan Archivaldo Guzman, was also abducted.
Andres Granados, a lawyer representing their father, said he had no information about the abductions.
If Ivan Archivaldo also turns out to be one of those taken, the kidnappers would have two of the sons rumored to be taking over parts of El Chapo's empire.
"People have information about the family's movements and they want to destroy the family," said Benitez.
Based on reporting by the Associated Press.