Mesa shooting victim takes a Snapchat selfie before getting bullet wound treated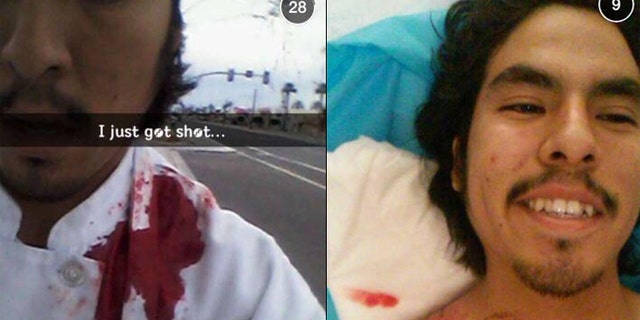 NEWYou can now listen to Fox News articles!
One of the victims of an Arizona shooting spree that left one dead and five injured wasn't going to let a bullet wound ruin his day.
Instead of immediately rushing for medical attention after suspect Ryan Giroux allegedly shot him in the shoulder, 20-year-old Isaac Martinez decided to post evidence of his bullet wound on his social media accounts.
The ex-convict Giroux demanded that Martinez hand over his car keys outside Bistro 13, the Mesa, Arizona restaurant where he works. When Martinez refused, Giroux allegedly shot him and drove off in the getaway vehicle.
Martinez didn't call for assistance but instead snapped a picture of himself – blood seeping through the shoulder area of his white uniform and all – on the social app Snapchat.
The culinary student was then taken to the hospital, where he was treated for his wound and released. But not before he took another photo – this time with his injury clearly visible – and posted a message on Facebook to his some 1,200 followers.
"So im home and well! I have no complicated injuries and should heal fine," Martinez's Facebook posts says, according to The Arizona Republic. "I had a bullet hit me from behind and go through my shoulder and out my coller area. Any higher or lower it coulda hit a artery, or shatter my shoulder blade. It was a miracle hit."
Martinez then goes on to detail the events of his day.
"He (the suspect) came in and demanded my keys for a getaway car. Of course i said no, and next was him pulling out a gun and cocking it. Soon as i saw it i started stepping back. And yelled for everyone to step back and get down. Next thing i knew i was hitting the ground, got up as fast as i fell, and ran out the back exit. At the same time the assailant had started taking off in my chef instructors car. When i saw he had gone. I noticed the cops and fire trucks down the street and went there."
The shootings started with an argument inside a motel room that spilled outside, leaving David James Williams, 29, dead and two women wounded, Mesa police Detective Esteban Flores said. The women were Williams' mother, Lydia Marie Nielson, 51, and Jessica Lee Burgess, 19.
The gunman then shot Martinez. The student at the nearby East Valley Institute of Technology was able to run across the street to emergency responders already at the motel, Flores said. The school said in a statement that the victim was one of seven students and an instructor working at Bistro 13 restaurant.
Vinny Carbone, who owns an auto body shop near the motel and restaurant, said he was getting ready to open when he heard a man yell "help, help" from Bistro 13 across the street. He turned and saw a woman outside the motel with what looked like a bullet hole in her side.
"She was in a chair but she was holding onto another chair, shaking, trying to keep her balance," Carbone said. "Another guy, he had blood on the back of his shirt."
The shootings set off an intense hunt for the gunman. Mesa police searched the trunks of cars, interviewed witnesses and brought in SWAT and canine units from other agencies. Flores warned people in the neighborhood to remain indoors.
Giroux was taken into custody after officers spotted him on an apartment balcony and struck him with a stun gun. Numerous officers led the handcuffed man to a truck parked outside the apartment complex.
Authorities are still trying to find out what triggered Giroux's shooting spree.
Giroux served prison terms totaling more than eight years for burglary, theft, attempted aggravated assault and a marijuana violation, according to an Arizona Department of Corrections profile of Giroux.
He was first incarcerated in 1994 and returned to prison in late 1995 before being released about a year later. He then returned to prison in mid-2007 before being released in late 2013.
Last year, a Maricopa County Superior Court judge allowed Giroux to remain on probation despite an unspecified probation violation.
The Associated Press contributed to this report.