Merkel: Germany must respond to chemical weapon use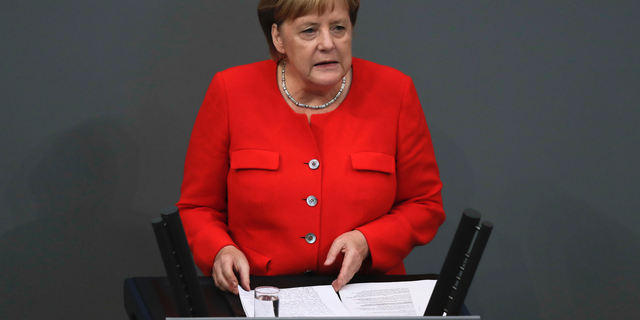 BERLIN – Chancellor Angela Merkel suggested Wednesday that Germany must be prepared to respond if chemical weapons are used in war zones, remarks that come amid a debate over possible military involvement in the Syrian conflict.
Merkel told lawmakers: "to simply say we can look away if somewhere chemical weapons are being used and international conventions are not kept, that can't be the answer."
Germans are widely against the country's participation in combat missions and Merkel did not elaborate. Her junior coalition partners, the Social Democrats, have strongly rejected getting involved in the war in Syria and the party's leader made clear Wednesday that it wouldn't agree to any intervention without U.N. authorization.
"Only the Security Council or the U.N. General Assembly can empower the international community to take military action," Andrea Nahles told lawmakers. "As long as this does not happen, we Social Democrats cannot vote for any intervention by force in Syria."
German military deployments abroad require parliamentary approval.
In a report based on anonymous sources Monday, Bild newspaper reported the Defense Ministry is examining the possibility of some kind of involvement in future military action if Syria's government carries out a further chemical attack, following a U.S. request to the chancellery.
On Monday, Merkel spokesman Steffen Seibert said that "of course the German government is in contact with partners and allies" on the situation in Syria, but did not directly confirm the Bild report.
Germany stayed out of previous U.S.-led airstrikes but voiced its support for them.
Defense Minister Ursula von der Leyen stressed the importance of preventing the use of chemical weapons, without committing to any specific course of action.
"I am fully aware that diplomacy is needed first and foremost, but credible deterrence also is needed," she said. "And we, Germany, cannot act today on this specific issue as if it had nothing to do with us, so I welcome this debate."
"We must be prepared, because we do not know what concrete situation we will face," she added.
____
Kirsten Grieshaber contributed to this story.