Menendez threatens passage of Puerto Rico relief bill, calls for changes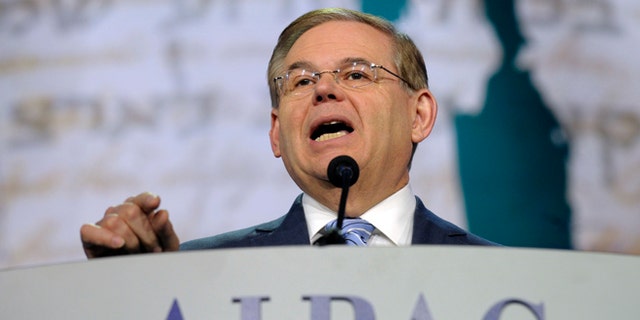 NEWYou can now listen to Fox News articles!
Robert Menendez (D-N.J.) is leading a group of lawmakers in pushing for an amendment to the House-passed rescue bill for Puerto Rico – even if it means passing the debt-relief package after the July 1 deadline.
Arguing that the current bill does not provide a clear pathway for Puerto Rico to restructure its debt, Menendez said that he is prepared to put a hold on the bill, which requires 60 votes to bring to a final Senate vote, and send the bill back to the House.
Puerto Rico is facing a July 1 deadline to make a $2 billion debt payment, but the House has adjourned until July 5.
"Hopefully, we're going to get a chance for amendments," Menendez said, according to Politico. "Puerto Rico's going to have a liquidity challenge no matter what."
Menendez wants Puerto Rico to be able to restructure its debts without a super-majority vote of approval by a federally-appointed oversight board that the new legislation would establish. He also hopes to add two seats to the board, to be nominated and approved by Puerto Rico's governor and senate. Menendez is also expected to propose eliminating provisions in the bill that would exempt companies from having to pay overtime and the full minimum wage to some employees.
Other Democratic lawmakers, including Sen. Sherrod Brown (D-Ohio) and Sen. Debbie Stabenow (D-Mich.), have expressed their concern about the language in the current bill and have tentatively voiced their support of Menendez's suggestions.
"I'm thinking of supporting it, but I'm very unhappy with the labor provisions and the way the [oversight board's] made up," Brown said. "[Republicans] want to make Puerto Rico into a little test-case laboratory that will make it even poorer than it is."
The resistance from Menendez and other Democrats is the latest in a series of roadblocks that the bailout bill for Puerto Rico has faced. The bill set off a lobbying battle in Washington and stalled in the House until House Speaker Paul Ryan (R-Wisc.) and the Obama administration worked out a compromise. The House approved the bill on June 9.
Like us on Facebook
Follow us on Twitter & Instagram