Mechanical error eyed in French train crash that killed 6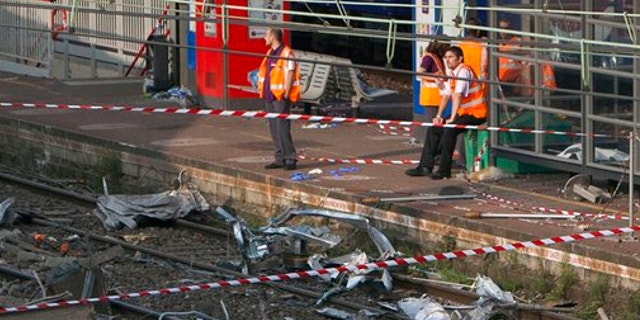 BRETIGNY-SUR-ORGE, France – An official says a faulty rail joint may have caused a train derailment outside Paris that left six people dead.
Pierre Izard, an official with the SNCF rail company, told reporters Saturday that investigators found that the joint had moved from its normal position.
Officials said that another train had traveled through the station just before the accident without incident. An investigation will determine why the rail joint, which is part of the switching system that moves trains from one track to another, detached.
The train, which left Paris on Friday night, jumped the track just a few miles into its journey as it traveled through a small town train station. It crashed into the platform and some cars tipped over. Nearly 200 people were injured in the initial crash. But by Saturday morning, Transport Minister Frederic Cuvillier said only 30 people were still considered injured.
But Michel Fuzeau, who is the head of local regional government, said that until an overturned train car is lifted, it was impossible to know if there could be more people trapped under it, calling the current death toll preliminary.
"This is only a hypothesis and we hope it's not (the case)," he told reporters.
He said special equipment was expected to arrive later Saturday in order to remove the cars. He added that around nine of the injured were in critical condition.
France has an impressive rail system, and hundreds of thousands of people were expected to take trains this weekend for the coast, mountains and to see family. Summer weekends are always busy on France's trains, but this weekend is one of the busiest since the country celebrates Bastille Day on Sunday.
The Friday night crash was the country's deadliest in years, but Cuvillier said it could have been worse and praised the driver who sent out an alert quickly, preventing a pile up.
He said it was unclear what did cause the accident, but authorities are looking into a possible error in the switching system, which guides trains from one track to another.
Cuvillier also acknowledged that there was some criticism that France hasn't invested enough in maintaining infrastructure.
"But for the moment we have no information that allows us to confirm that the dilapidation of the network was the cause of this derailment," he said on French television. He added that investigators were exploring several possibilities.
The train derailed at Bretigny-sur-Orge, about 12 miles into its 250-mile journey to Limoges.
Keira Ichti, who lives in the town where the train crashed, said she was terrified when she found out about the accident because her daughter works at the station. "(It was) total panic. My heart was beating so fast. I had no strength," said the 56-year-old.
But it turned out her daughter was fine.