Mattis is 1st Pentagon chief to visit Guantanamo since 2002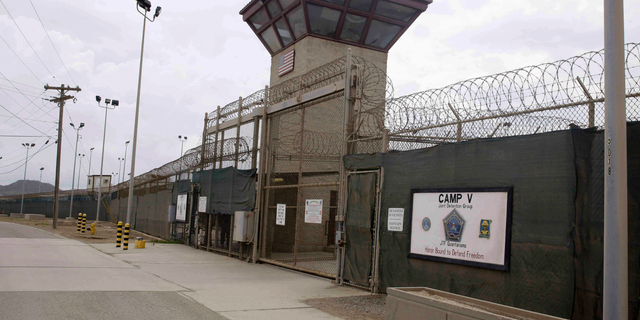 GUANTANAMO BAY, Cuba – U.S. Defense Secretary Jim Mattis visited the American Navy base at Guantanamo Bay, Cuba, to offer holiday greetings to troops Thursday. It was the first trip there by a Pentagon chief in almost 16 years.
Mattis was meeting with troops, not touring the detention facilities or discussing detainee policy options. His stay comes amid uncertainty over the Trump administration's policy on continued use of the military prison.
President Donald Trump hasn't released any Guantanamo prisoners or added any to the list of men who have been officially cleared to go home or to a third country for resettlement.
Mattis is the first defense secretary to visit Guantanamo Bay since Donald Rumsfeld in January 2002, just weeks after the first prisoners arrived from Afghanistan in the early stages of the fight against terrorism. The detention center was set up to hold suspected terrorists shortly after the attacks of Sept. 11, 2001.
Mattis arrived at Guantanamo on Wednesday night and was accompanied by an Associated Press reporter.
Forty-one prisoners remain in detention. Ten have been charged by a military commission. Five have been cleared to leave, but their status is in doubt under the current administration.
That leaves 26 in indefinite confinement, though some eventually could be cleared for release, too, or prosecuted. Lawyers are considering filing new legal challenges, arguing that a policy of no releases means the detainees' confinement no longer can be legally justified as a temporary wartime measure.
President Barack Obama tried to close the detention center, but was thwarted by Congress. Lawmakers objected to transferring detainees to confinement facilities in the United States.
Mattis has said little publicly about Guantanamo Bay since taking office in January. The subject wasn't raised in his Senate confirmation hearing.
In response to written questions submitted to him before that hearing, he said: "I believe that we should develop a repeatable detainee policy that is appropriate for enemy combatants taken prisoner under such circumstances."
Asked whether the U.S. should keep detainees without trial, he said: "Long-term detention is appropriate when an unprivileged enemy belligerent poses a continuing significant threat to the security of the United States."
U.S. Attorney General Jeff Sessions visited the detention facility in July.
Sessions underscored the administration's support for continued use of the prison. He called it a "perfectly acceptable" place to detain new terrorist suspects, as opposed to holding them in the U.S. and having his own Justice Department try them in civilian courts.