Massive protests erupt in Mexico over Uber, company responds by offering free rides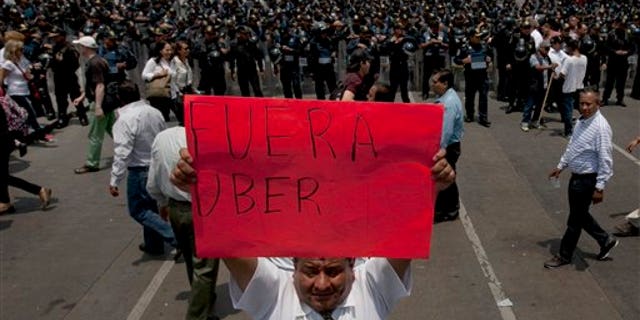 MEXICO CITY – Taxi drivers in Mexico City often complain of "pirate" cabs, which prowl the capital's streets without the proper permits and allegedly plow illegal profits into political campaigns. On Monday, they parked their taxis and protested another kind of alleged "pirate" cutting into their business: Uber and other application-based ride services, which are expanding in Mexico's major cities and upending an industry not known for service, comfort or safety.
"(The local government) hasn't wanted to understand that opening the door to Uber and Cabify continues opening the door to illegality," said taxi driver José Luis Ramírez at a recent protest outside the Mobility Secretariat in Mexico City.
"Impunity, corruption and crime and corruption travel through the entire city in Uber, Cabify and pirate taxis with total freedom and protection of the (Mexico City) government," said alleged another cabbie, Francisco Cornejo.
Taxi drivers have declared war on services such as Uber and Cabify and demanded officials go after its operators, who, they argue, aren't playing by the same rules and avoid the obligations and fees of the licensing process. Those obligations include paying 80,000 pesos (U.S. $5,250) for permits, purchasing special insurance and painting their cars in a pink-and-white color scheme.
On Monday, drivers choked traffic by parking their cabs in key intersections and marching in the main thoroughfares, demanding the local government get Uber and Cabify cars off the streets – something city officials agreed to do, starting on Tuesday. Officials originally agreed on enforcement actions against Uber and Cabify last month, but later proposed public forums on the issue instead – a posture angering the "taxistas" and prompting protests.
"We don't want to think that in the city a power vacuum exists that allows for anarchy," said Daniel Medina, spokesman for the Organized Taxi Drivers of Mexico City, a group accusing Uber of offering "unfair competition." "(The application-based services) take advantage of technology to make fun of the law in various countries and promote criminality."
Uber has cut a controversial course through cities around the word as it takes on entrenched taxi industries. In Mexico City and its environs, it's taking on a public transportation system, which keeps taxi, bus and subway fares low, but puts a low priority on passenger comfort or concerns.
"The populist model of public transportation has its costs … (and) bad quality service," said Aldo Muñoz Armenta, political science professor at the Autonomous University of Mexico State. On the plus side, it allows people to cheaply traverse a metropolitan area of more than 21 million inhabitants.
Uber's arrival is also exposing structural problems and vices in the city's taxi service as the drivers playing by the rules face competition from unlicensed cabs, an increasing number of new licensees and now upstarts such as Uber and Cabify.
Taxi drivers may be fighting a losing battled, however, as Uber users push back with social media campaigns to keep the service in the city. Uber itself responded to the taxi protests by offering free rides in Mexico City – an offer accepted by hundreds of riders.
The hashtag #UberSeQueda (Uber stays) also trended in Mexico City on Monday as Twitter users raised questions over taxi drivers' services standards and practices such as not offering receipts, failing to provide complete change and not keeping their vehicles clean or charging the proper fares.
"It's no wonder that taxi drivers want to ban the service," columnist Sergio Sarmiento wrote in the newspaper Reforma after recounting how taxi drivers outside a concert venue – operating from a base with improperly granted permits – wanted to charge him five times as much as an Uber driver.
"This is a phenomenon that is not going to be easily stopped," said Manuel Molano, deputy director of the Mexican Institute for Competitiveness, a Mexico City think tank. "People like me are not substituting Uber for a taxi, rather for a private car."
Molano also suspects the service might find favor with federal officials, who would see Uber's use of credit cards (leaving a digital paper trail) as appealing in a country where nearly 60 per cent of businesses are based on cash transactions and don't pay tax.
City officials say they're committed to organizing roundtables on the topic of application-based services and offering the public a say.
"We are entering this as neutral players," Gabriella Gómez-Mont, director of the department organizing the roundtable, told Fox News Latino, adding that the idea is to level the playing field for taxi drivers by making technology more available to them.
"The conversation is bigger than whether Uber should stay or Uber should go" and more about "taking something emblematic in the city [taxi cabs] and making it better," she said.
Taxi service can be a controversial topic in Mexico City, however. Writing in the magazine Nexos, urban planner Salvador Medina Rodríguez called the complaints over quality and security, "a partial description of taxi service" in the Federal District. (Roughly 9 million people live in the Federal District, while another 12 million reside in suburbs in outlying Mexico state.)
The number of licensed taxis has grown by 240 percent to more than 130,000 vehicles over the last 25 years in the Federal District, while the population has stayed about the same, Medina Rodríguez wrote. Taxi rates – which start at about 60 cents for cabs circling the streets freely – are government-controlled and kept low, while the cost of fuel and maintenance have increased. Many drivers also pay daily rent to a vehicle owner, thinning margins even more and "forcing them to compete daily for fares in a risky way," according to Medina Rodríguez.
Making matters more difficult for drivers: an estimated 20,000 irregular cabs operate in the Federal District (usually identifiable by the use of regular license plates, instead of a special taxi plates.)
The "pirate" taxis often operate with political protection. Corporatist groups often strike deals with politicians to start unlicensed taxi services, then send some of the earnings back into political campaigns – in full swing for the July 7 borough and local assembly elections – according to Adrián Rueda, a columnist and expert on Mexico City politics. Licensed operators strike similar deals in exchange for scare space on streets to establish taxi stands. "These are the people that Uber is most impacting," Rueda said.
"The discretional ability with which the authorities can regulate this [taxis] market facilitates corruption, from the assignment of plates, to the renovation of licenses and even the revision operations," read an analysis on Uber's arrival by the think tank CIDAC. The illegal cabs, it continued, "Do not formally pay tax" – unlike Uber – "but do offer cash to in a discretional way to the authorities."
The local government has also issued taxi permits as prizes for friends and compensation for groups disrupted by urban development projects – such as microbus operators on routes made redundant by mass-transit projects – Medina, the taxi drivers' leader, alleged.
"It's a way of lowering the temperature" in times of conflict, according to Medina, who said drivers don't disapprove of applications, which some of them use, rather Uber evading local regulations. "It's a business that is taking care of the social and economic vulnerability of the people that it recruits to build an illegal fortune."
An Uber spokesperson declined comment for this story. The company now offers service in four cities south of the border: Mexico City, Guadalajara, Monterrey and Tijuana.
Uber drivers say they're satisfied with their arrangement – in which they are paid a salary and sometimes an additional commission by the vehicle owners – and working conditions, which they insist is safer because they don't carry cash.
"I'm practically earning double," said Uber driver Humberto Hernández, 48, who traded a security job paying $400 monthly for 12-hour shifts behind the wheel.
Mexico City taxi drivers say they're seeing an impact on their business. Jaime Fierro, who works from a taxi stand outside a private hospital, hears complaints about Uber, though – such as stories of drivers getting lost and being unable to find local landmarks. "Their drivers don't know the city," he said.