Marine fights for Afghan interpreter, a father of 6, to gain entry into US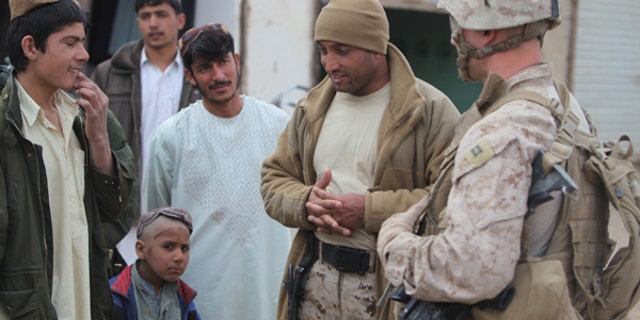 Andy Slivka was just 19 when he was deployed to Afghanistan, leaving behind a close-knit family to serve with his fellow Marines in Afghanistan's Helmand Province six years ago.
Then he met Zia, a 39-year-old Afghan man whose role would become far greater than an English interpreter for Slivka and his platoon.
"He acted as a father when my own father wasn't there," Slivka said, "And he risked everything he had in order to do it."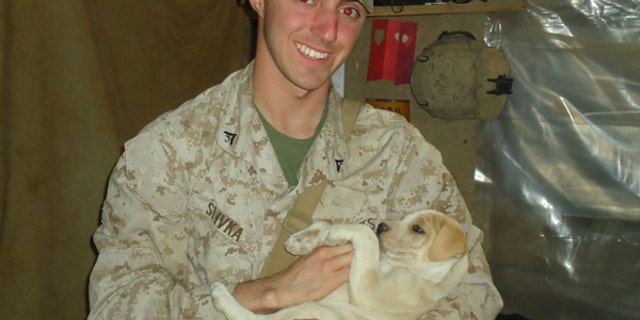 From dangerous patrols in hostile and IED-riddled territory to dinner time in the mess tent, Zia was always with his American brothers in arms, said Slivka. Late night chats about love, life and loss were easy with the bilingual Afghan, he said.
"If I ever had an issue, I could just sit there and talk to him," said Slivka, now a 25-year-old college senior in Berea, Ohio.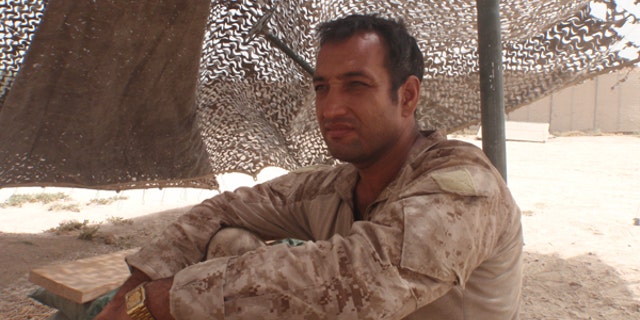 Slivka is fighting to bring Zia and his family to the U.S. for a better life -- a plight familiar to many former service men and women who are trying to move their Iraqi or Afghan interpreters from the war zone to America.
Slivka created a GoFundMe page last week to raise funds for Zia, his wife and six children in their quest to obtain a Special Immigrant Visa (SIV), which would allow them entry into the U.S.
The fundraising website also includes a video featuring other Marines from the Third Battalion, Ninth Marine Regiment speaking about Zia, who applied for a visa three years ago and whose family has since been forced into hiding after threats from the Taliban.
"Without Zia's dedicated work and devotion, we wouldn't have been able to succeed in our mission over there," Marine Corps veteran Ramiro Lopez says in the video.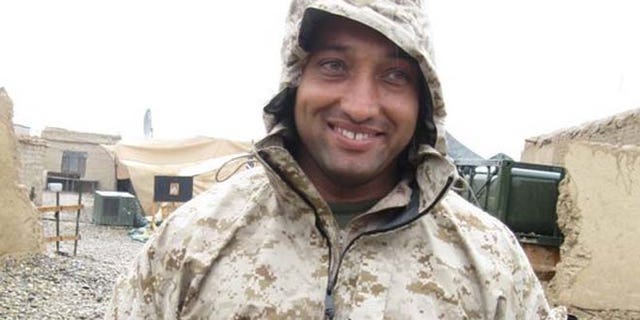 "These individuals are now facing the risk of life, liberty," said James Miller. "Their families are in danger all because they did the right thing and they served alongside us as allies and now we're abandoning them.
"From Day One in boot camp, it was ingrained in you, you never leave a man behind -- and that's why we need to bring people like Zia to the U.S.," said Scott Pitcher.
Slivka and his fellow Marines are calling on Congress to reauthorize and expand its visa program for Afghans like Zia. If Congress fails to allocate any new visas, the program will expire at the end of the year, leaving interpreters like Zia to be killed by "the very enemies they helped us fight," Slivka said.
The Afghan Allies Protection Act of 2009 applies to Afghans who have been employed by or on behalf of the U.S. government in Afghanistan. Translators or interpreters may apply under this program if they meet the eligibility requirements.
Since the beginning of 2014, the U.S. government has issued visas to 9,000 Afghan allies, and an additional 18,000 visas to their immediate family members under the program -- more than 27,000 visas in three years, according to the State Department.
Congress authorized a total of 7,000 visas for Afghan principal applicants in the National Defense Authorization Acts for 2015 and 2016. But as of Sept. 25, 2016, only 1,825 visas remain.
Unless Congress authorizes additional visa numbers, Special Immigrant Visa issuances under this program will stop once the remaining visa numbers have been used.
A State Department official told FoxNews.com Tuesday that, "We are committed to supporting those who – at great personal risk – have helped us."
Matt Zeller, an Afghan War veteran and Purple Heart recipient from Rochester, N.Y., pressured the U.S. Embassy in Kabul to grant a visa for his former interpreter as part of the Afghan Allies Protection Act.
The visa request for Janis Shinwari was granted in September 2013, and Zeller later founded No One Left Behind, a group that advocates for the continuation and expansion of the current visa program for Afghan and Iraqi interpreters. The organization also offers financial and other support to interpreters and their families once they have arrived in the U.S.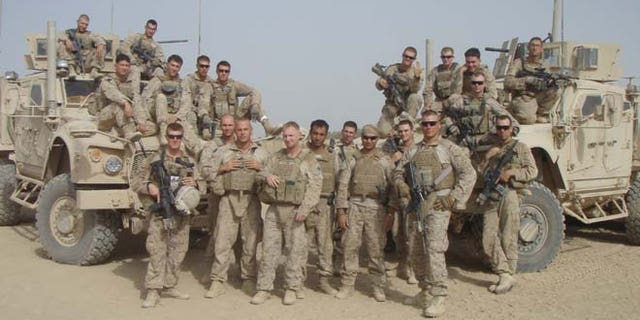 "Currently, the visa backlog stands at 10,000+ and counting," Zeller told FoxNews.com. "When you include family members, that could be as many as 35,000 people.
"These are our fellow veterans," Zeller said. "They fought with us. They bled with us. In many cases, they've died for us and killed the enemy to save the lives of our men and women in uniform."
Zia's work went above and beyond the role of a translater, Slivka said. Zia faced backlash from other Afghans -- especially Taliban sympathizers -- while he put his life on the line to help U.S. troops.
Zia, who lives in Kabul City, cannot move to other provinces due to safety reasons. The Taliban, he said, is using biometric systems to carry out attacks on former interpreters employed by the U.S. military.
Slivka recalled a recent conversation with Zia in which the man told him a Taliban commander had called him on his cellphone and threatened him. The Taliban official told Zia that, as a fellow Muslim, he should help them "kick out" Americans from Afghanistan. When Zia refused, the commander said, "You will face our judgment one day."
"You name it and he did it -- from going out with platoons on patrols or manning the aide station where we could be on post," Slivka said of Zia, who worked as a military interpreter for four years. "He was our 24-hour go-to guy if we needed anything, and he was indispensable.
"There was no other interpreter I've ever worked with in the U.S. Marine Corp like Zia," said Slivka, who is planning to become a mental health counselor for the Department of Veterans Affairs. "He understood the humanistic side of things. He empathized with us. He showed tremendous care and compassion."
"He was our dad in a war zone," Slivka said.