Mansion murder victims' housekeeper talks about family and 'red flags'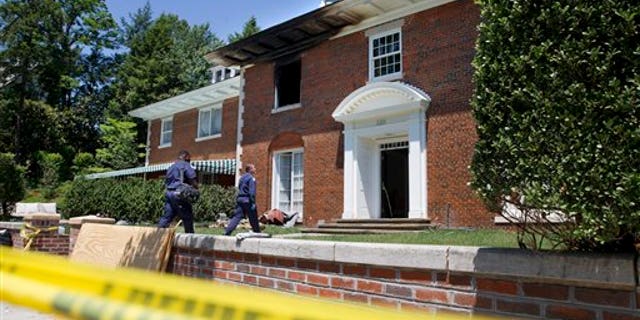 Nelitza Gutierrez, the housekeeper for the Washington D.C. family that was murdered in May, said in a new television interview that she sensed something was wrong when she got unusual texts and voicemails from her bosses the day they apparently were held hostage.
On Thursday May 14, Savvas and Amy Savopoulos, their son Philip, who was 10, and one of their two housekeepers, Veralicia "Vera" Figueroa, were found dead in an apparent murder that investigators are still trying to find a motive for. A fire apparently was set after the victims were killed. One person thus far has been arrested and charged in the murders.
In an interview with ABC News 20/20, Gutierrez, who typically worked for the Savopoulos family on Tuesdays and Thursdays – and occasionally on Wednesdays – said that she spoke to the other housekeeper, Figueroa, who worked at the home two days before she and her employers were killed.
Gutierrez, who worked for Savvas and Amy Savopoulos for 20 years, said that she had helped Figueroa get the housekeeping job five years ago.
She said that on Tuesday of that fateful week, she spoke on the telephone to Figueroa, who said she would be working at the Savopoulos home the next day, Wednesday, until 3 p.m., her usual shift.
Gutierrez said that on that Wednesday she accompanied Savvas Savopoulos to a new martial arts studio he was getting ready to open. At about 5:30 p.m., he took a call from his wife, who apparently summoned him home to help take care of their son, 10-year-old Philip, who wasn't at after-school activities because he had suffered a concussion from a go-kart accident.
Later, on Wednesday night, she received an odd voicemail from Savvas Savopoulos telling her not to come to work at the home on Thursday because Gutierrez was staying overnight to help because his wife, Amy, "is in bed sick."
Gutierrez found it odd, but not alarming, because her boss's voice did not sound worried or stressed.
Then on Thursday morning, she got an out-of-character text from Amy Savopoulos that said: "Hey, you don't need to come in today."
She tried reaching Figueroa, whom she described as a good friend, numerous times on Thursday, thinking it odd that she would stay in the family's home overnight, which she never did. But Figueroa did not respond, giving Gutierrez a sinking feeling that something was amiss.
"When I got that message on Thursday, I was thinking, and I started calling them," Gutierrez said in the ABC interview. "I focused on Vera, I don't know why… I call her and I say, 'Hi, Vera, What's going on?' No answer."
"Vera, she always was happy," Gutierrez said. "She was so responsible and she really cared about her job."
Gutierrez said the family was happy and caring.
Fate not only spared Gutierrez, but also the Savopoulos' two teenage daughters, who were at boarding school when the tragedy occurred.
Daron Wint, 34, was arrested and charged with first-degree murder. Police say they believe others also may have been involved.
Like us on Facebook
Follow us on Twitter & Instagram