Manhunt for Berlin attacker continues; police treating assault as act of terrorism
The manhunt for the perpetrator of an Islamic State-claimed attack on a Christmas market in Berlin continued Tuesday as German police said "we may still have a dangerous criminal out there."
Peter Frank, the country's top prosecutor, said investigators are treating Monday's attack on the market outside Kaiser Wilhelm Memorial Church as an act of terrorism. At least 12 people were killed and more than 50 were injured after a truck plowed through a crowd at the market.

ISIS -- through its media arm on Tuesday -- claimed responsibility for the massacre and called the attacker "a soldier of the Islamic State," a typical phrase used by the group when an assailant has been inspired but not directed.

A man who was previously in custody -- identified as a Pakistani citizen who came to Germany last year, had been picked up based on a description of a man who jumped out of the truck and fled after the attack.
But federal prosecutors said late Tuesday that he denied any involvement and they had found no forensic evidence proving he was in the cab during the rampage. Additionally, no witnesses had followed him from the scene to the spot where he was picked up.
Police sources told the country's Die Welt newspaper that they had the "wrong man" and that the true perpetrator "is still armed, at large and can cause fresh damage."
"We may still have a dangerous criminal out there," Berlin police chief Klaus Kandt said.
Holger Muench, head of Germany's Federal Criminal Police Office, said they have not yet found a pistol believed to be used to kill the truck's passenger, who was identified by police as 37-year-old Lukasz Urban.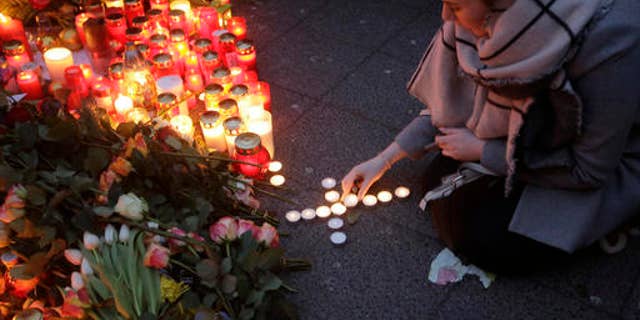 One of his colleagues said he was so dedicated to his work and his truck that he could be expected to defend the vehicle "to the end."
Ariel Zurawski, the owner of the trucking company and the victim's cousin, was asked by German authorities to identify Urban from photos.
"It was really clear that he was fighting for his life. His face was swollen and bloodied. Police informed me that he had suffered gunshot wounds. Despite being stabbed he was shot dead," Zurawski told Polish media.
Frank said the method used in the rampage was reminiscent of July's truck attack in Nice, France, and of the new "modius operandi" used my Islamic extremist groups.
For those reasons, he said, we are "naturally on high alert and are investigating in all directions."
Six out of the 12 people killed have been identified and are all Germans, but he does not yet know whether the other six are as well, Muench added.
Berlin police urged people to remain "particularly vigilant" and to report "suspicious movement" to a special hotline.
COLONGE INCREASES POLICE PRESENCE, CLEARS JAIL CELLS FOR NYE CELEBRATION
Interior Minister Thomas de Maiziere -- Germany's top security official -- said Tuesday that authorities have "no doubt" that the attack was intentional.
The truck struck a popular Christmas market packed with holiday shoppers outside the Kaiser Wilhelm Memorial late Monday as tourists and locals were enjoying a traditional pre-Christmas evening out near Berlin's Zoo station.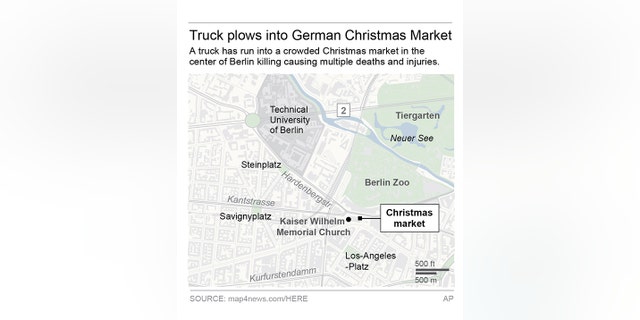 "All police measures concerning the suspected terror attack at Breitscheidplatz are being taken with great speed and the necessary care," Berlin police said on Twitter.
TRUMP PINS KILLINGS IN GERMANY, RUSSIA ON RADICAL ISLAMIC TERRORISM
The crash came less than a month after the U.S. State Department called for caution in markets and other public places across Europe, saying extremist groups including Islamic State and Al Qaeda were focusing "on the upcoming holiday season and associated events."
The Islamic State and Al Qaeda have both called on followers to use trucks in particular to attack crowds. On July 14, a truck plowed into Bastille Day revelers in the southern French city of Nice, killing 86 people. Islamic State claimed responsibility for that attack, which was carried out by a Tunisian living in France. No group had claimed responsibility for the Berlin attack as of early Tuesday.
The revelations about the attacker's identity are likely to heap more pressure onto German Chancellor Angela Merkel, whose decision to accept waves of migrants from Africa and the Middle East has stoked controversy and unsettled Germany and Europe.
In Tuesday press conference, Merkel said she is "shocked, shaken and deeply saddened" by the attack. She had told reporters that it would be "particularly sickening" if it's confirmed the attack was an asylum-seeker who sought refuge in Germany.
Zurawski said he last spoke with the driver around noon, and the driver told him he was in Berlin and scheduled to unload Tuesday morning. "They must have done something to my driver," he told TVN24.
For several hours, the truck was started and stopped as if the driver was learning how to use the vehicle and finally pulled away at around 7:14 p.m. local time. By about 8:14 p.m., the truck had plowed into a group of people as it headed the wrong way on a street and then onto a sidewalk.
Federal prosecutors, who handle terrorism cases, took over the investigation, according to German Justice Minister Heiko Maas. In Washington, White House National Security Council spokesman Ned Price said the United States was in contact with German officials and ready to help in the investigation and response.
U.S. President-elect Donald Trump blamed Islamist terrorists, though it was unclear what that assessment was based on. He said Islamic extremists must be "eradicated from the face of the earth" and pledged to carry out that mission with all "freedom-loving partners."
Germany has not experienced any mass-casualty attacks by Islamic extremists, but has been increasingly wary since two attacks by asylum-seekers in the summer that were claimed by ISIS. Five people were wounded in an ax rampage on a train near Wuerzburg and 15 in a bombing outside a bar in Ansbach, both in the southern state of Bavaria. Both attackers were killed.
Those attacks, and two others unrelated to Islamic extremism in the same weeklong period, helped stoke tensions in Germany over the arrival last year of 890,000 migrants.
Fox News' Greg Palkot and the Associated Press contributed to this report.