Mandarin Oriental Hotel in London engulfed in flames, triggers massive response
A massive fire broke out at the luxurious Mandarin Oriental Hotel in London Wednesday as more than a 100 firefighters rushed to the scene of the blaze.
Thick black smoke was seen pouring out of the posh Knightsbridge neighborhood hotel, witnesses said.
The London Fire Brigade said it started receiving calls about the fire at around 4 p.m. They said they have taken more than 35 calls to the inferno and sent 20 fire engines and 120 firefighters to the scene.
There were no immediate reports of injuries. The cause of the fire was not yet known.
Smoke can be seen for miles. The major roadway in front of the hotel was closed, causing a rush-hour mess in central London. The Knightsbridge subway station was closed as well, while firefighters worked to put out the flames, officials said.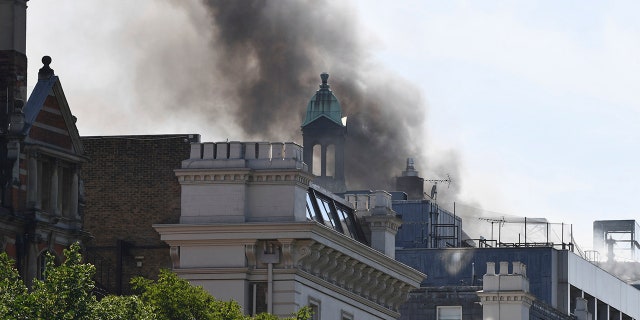 Graham Heels, who works near the hotel described the scene to Sky News.
"There was a lot of smoke billowing from the roof, thick black smoke, and debris floating up into the air," he said.
Another worker told the station that "Everything's fine but we don't know how it started yet."
"We are aware that there is a fire at Mandarin Oriental Hyde Park, London, and that the fire brigade is at the hotel," a hotel spokesman told Sky News. "As the situation is still unfolding, we have no further details to share at this time, but will provide an update soon."
It was unclear whether there were any injuries or what caused the fire.
The Mandarin Oriental Hotel completed multi-million pound renovations just this month. The hotel redesigned all of the rooms, suites and public areas. It has 181 bedrooms and suites, and is located near Harrods, an iconic department store that itself was destroyed by fire in 1883 and rebuilt.
The Associated Press contributed to this report.