Man wanted for murder caught in Spain because of tell-tale tattoo: 'Thanks for everything'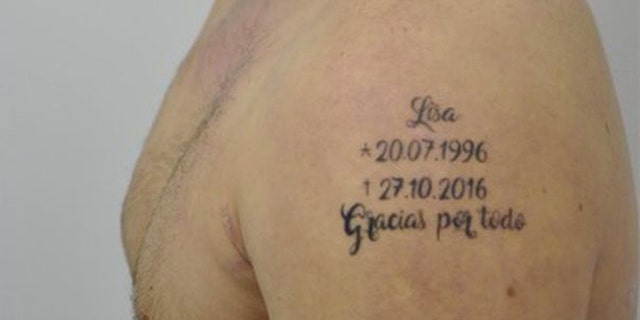 NEWYou can now listen to Fox News articles!
Late in October, police in Freyung, Germany, made a grisly discovery. The body of a 20-year-old woman named Lisa had been stuffed into trash bags and left in the apartment she shared with her boyfriend, Dominik and their 18-month-old son.
There were signs that her throat had been slit, but investigators couldn't be certain how long her remains had been there – maybe three weeks, the BBC reports.
Dominik and the toddler were nowhere to be found, which quickly made the boyfriend the prime suspect.
Spanish police tracked him down to the beach area of Catalonia and arrested him on Friday. On his upper arm was a horrifying tattoo with the dead woman's name, birth date, possible death date of Oct. 27 and the line, "Gracias por todo" – "Thanks for everything."
Spain's National Police said in a statement, "Officers have rescued in perfect condition the couple's 18-month-old baby with whom he fled after committing the murder."
Dominik, whose last name has not been released by Spanish police, left an obvious trail of clues for investigators during his flight from justice.
After the murder, police say, he took the victim's phone "with the intention of keeping their social network profiles active."
On Nov. 7, he posted on social media a picture of his child at the Eiffel Tower in Paris.
He made cash machine withdrawals in the Spanish city of Valladolid and was later spotted at toll plazas along the country's Mediterranean coast.
The National Police finally caught up to him at a hotel in Lloret de Mar, Girona, not far from the border with France.
Dominik is facing a prison sentence of 15 years in Germany after he is extradited, but the most damning evidence may be the ink on his arm.