Man taking selfie on Germany autobahn killed after getting hit by car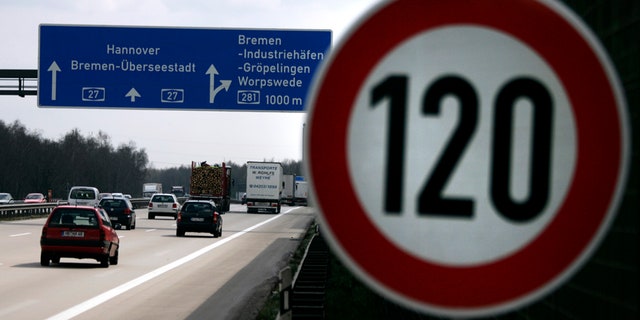 A British tourist was killed by a car after he reportedly posed for selfies on the central reservation of a motorway in Germany late at night.
Dean Steele, 22, died instantly as he was struck on the A24 autobahn in Gudow in Schleswig-Holstein on Saturday evening.
Celtic fan Steele, from Uddingston, Lanarkshire, had watched his side's 5-1 win over Rangers on Saturday lunchtime in the pub with two pals, reports the Scottish Sun.
CUFFLINK TERRORIST FOUND WITH JAMES BOND-STYLE DEVICES WILL SPEND 8 YEARS IN PRISON
Cops say Dean died instantly when he was struck by a Audi A6 motor later that day.
His two pals were unhurt but received treatment for shock.
According to media reports, the men appeared on the central crash barrier separating lanes of the A24 road and began taking pictures of themselves as vehicles sped past.
A pal said: "They were over to celebrate one of the guy's birthdays. They had been out watching the Celtic game and had a few drinks to celebrate."
"They are just devastated, this will scar them for life," the pall added.
A 73-year-old man driving an Audi A6 from the nearby town of Lauenburg hit Dean killing him instantly, according to reports.
Grieving family and friends have taken to social media to pay tribute to Dean after hearing the news.
Sister Erin said in a heartfelt tribute: "I'm going to miss him like crazy. I know we fought like cat and dog but that's what siblings do.
"I'm going to miss him so much. Love you big bro."
BREXIT GETS NASTY AS EU ACCUSES BRITAIN OF UNREALISTIC AIMS
His cousin Abigail Steele wrote: "Absolutely devastated rest in peace Dean cuz love you always till I see you again."
Pal Joseph Cheney posted a snap and wrote: "Absolutely lost for words. Cant believe this. One of the boys, one of my best mates has passed away.
"So many great nights out and memories of you absolutely gutted man love ye 'banjo'."
A Just Giving page has been set up to help the family with funeral costs and returning his body to Scotland.
The A24 was completely blocked for several hours after the crash.
A US cheerleader died while taking selfies on the beach in a freak accident when the log she was standing on rolled over, while a teenager fell to his death after "trying to take a selfie" at an ice-skating rink on the roof of Europe's tallest skyscraper.
The story first appeared in The Sun.