Man beheads 800-year-old church statue in Florida, threatens to shoot priest in face, police say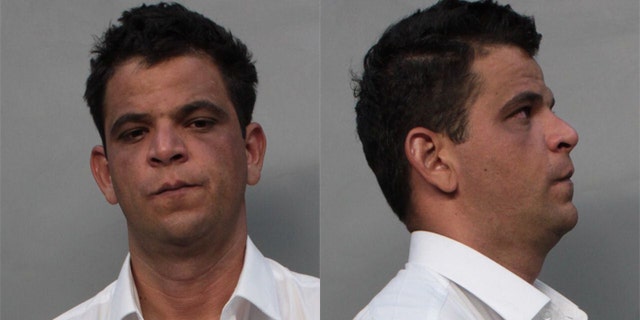 Police in Florida arrested a man who they claim busted into a Miami Beach church and threatened to shoot the priest in the face.
Jorge Arizamendoza, 33, allegedly entered the St. Bernard de Clairvaux Church inside the Ancient Spanish Monastery on Sunday morning in the middle of a prayer service for the victims of the Orlando mass shooting, and began slamming the chapel door and demanding to speak to the priest.
"He made his way inside the gates and the rail, approached me at the altar and said, 'I'm going to shoot the priest and kill everybody that stays in here. I want everybody out now.'" Father Gregory Mansfield told local media.
According to the arrest report, one of the approximately 140 people gathered inside the church yelled that Arizamendoza might be armed, to which he replied, "No, but I am going to get a .44 and come back and shoot you in the face."
Arizamendoza, however, was quickly arrested by police working a special detail at the Ancient Spanish Monastery, a 12th-century monastery that newspaper magnate William Randolph Hearst had shipped from Segovia to Florida in 1925.
"We set up here on Sunday," said North Miami Beach Police Chief Bill Hernandez. "We had the command post out here and three detectives."
Hernandez added, "Our officers were able to get in there, place him in custody, take him back to the station … The individual confessed to [the allegations]."
This was allegedly Arizamendoza's third trip to the monastery this week.
On Thursday of last week, he purchased a day ticket and spent several hours inside the church. When he was exiting, he told someone that the church should not be holding masses.
"He walked out the door, went into his car and got a thing, I'd describe it as a sledgehammer — it had a long handle and heavy metal at the end — and began smashing the sign out in front," Mansfield said.
According to police, Arizamendoza returned the next day, when he jumped a fence to enter the compound. He smashed a video surveillance camera and beheaded an 800-year-old statute of Alphonsus VII of Castille.
At Arizamendoza's bond hearing on Monday, detectives called into question his mental state and asked the judge to increase the bond. He is currently being held on a $92,500 bond and faces numerous charges including aggravated assault, burglary and criminal mischief at a place of worship.
Arizamendoza, who allegedly drove all the way from Silver Springs, Maryland, to cause harm to the church, had previously gone through the church's homeless program and had eaten free meals from the kitchen there.
"He could have chosen maybe a hundred churches in Miami, but this is one with whom he had first-hand experience," Mansfield said.
The Ancient Spanish Monastery also contains a museum and a venue where weddings and other events are held.
Like us on Facebook
Follow us on Twitter & Instagram