Man, 23, dies after being Tasered by police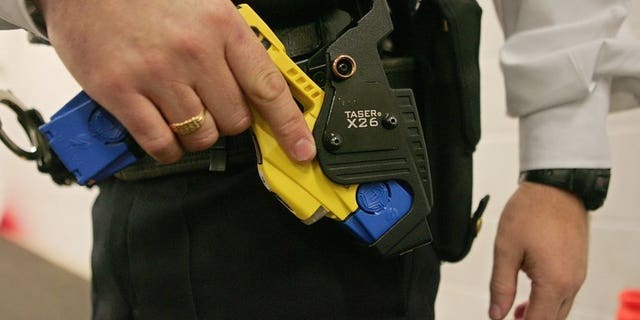 LONDON (AFP) – A 23-year-old man has died after police shot him with a Taser stun gun, Greater Manchester police said on Thursday.
The man suffered a fatal "medical episode" after the electroshock weapon was used on Wednesday, they said in a statement.
Police had been called to the Gorton area of Manchester at 8.15pm by an emergency call reporting a man with a knife.
"Officers were dispatched immediately and arrived in eight minutes. On arrival, a taser was discharged to detain a 23-year-old man," said assistant chief constable Garry Shewan.
"At this time it is unclear what happened but at some point afterwards, the man suffered a medical episode.
"Paramedics performed first aid on the man at the scene before he was taken to hospital where he sadly died."
The force has referred itself to the Independent Police Complaints Commission and the death to the local coroner, it said.
Local media named the man as Jordan Begley.
Eyewitness Lee Wilkie, 25, told the Manchester Evening News: "Three Transit vans came storming up to the house then they bashed his door down and you could hear all sorts of shouting and banging.
"I think he's been Tasered inside and then the ambulance came outside his house. A bit later he came into the street but something happened again and they started giving him CPR in the road.
"He was a good lad, a quiet lad, and he was very well-liked. People around here are just in total shock and really angry as well. Why did they have to Taser him?"
Tasers, intended to be non-lethal, have been involved in a series of controversial incidents but London's Metropolitan police plan to make them standard equipment in police response cars.
In October, a 22-year-old Liverpool man suffered a cardiac arrest after being Tasered four times.
The same month, police in Lancashire Tasered a blind man after mistaking his white stick for a samurai sword.