Mali delays vote result announcement to Friday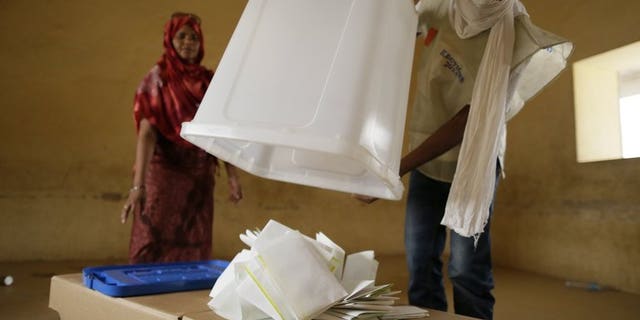 NEWYou can now listen to Fox News articles!
BAMAKO (AFP) – The results of a first round of voting in Mali's crunch presidential election will be announced on Friday, a day later than expected, the presidency said.
No explanation was given for the delay, announced by the presidency's Twitter account on Thursday, but an official from the ministry of territorial administration said vote-counting had not been completed following Sunday's poll.
"The law allows us until Friday for the publication of interim results and we have not quite finished counting. It is tedious work," the official said.
The crucial election comes after a disastrous March 2012 coup ousting president Amadou Toumani Toure, which left one of the region's most stable democracies crippled by political crisis and led to an Islamist insurgency.
As hardline Al-Qaeda allies took control of the country's vast north, and threatened to extend their often violent rule, former colonial power France launched a military offensive to drive out the Islamist fighters.
The election is seen as key to the country's recovery.
Initial results showed on Tuesday that former prime minister Ibrahim Boubacar Keita had taken a comfortable lead, and interior minister Moussa Sinko Coulibaly said there would be no need for a second round vote on August 11 if the trend continued.
But the party of Keita's rival Soumaila Cisse said Wednesday the election had been marred by "ballot stuffing", a form of electoral fraud in which people submit multiple ballots during a vote in which only one ballot per person is allowed.
He called for the interior minister Coulibaly to be sacked.
Although there were 27 presidential hopefuls, analysts have characterised the election as a two-horse race. Keita was seen as the frontrunner ahead of Cisse, a former finance minister and erstwhile chairman of the Commission of the West African Economic and Monetary Union.
Despite heavy security during voting after the Movement for Oneness and Jihad in West Africa -- one of the main armed groups in northern Mali -- said it would "strike" polling stations, no serious incidents were reported on election day.
Acting president Dioncounda Traore and United Nations Secretary General Ban Ki-moon have acknowledged that the vote may be "imperfect" in a country with 500,000 citizens displaced by conflict, but have urged Malians to respect the outcome.
Critics argue that Mali, under pressure from the international community, was rushing to the polls and risked a botched election which could do more harm than good.
But initial estimates put the turnout above 50 percent, a huge improvement on the 36 percent who voted in 2007, and Mali was praised by the international community for running a transparent, credible and peaceful election.
A UN peacekeeping mission integrating more than 6,000 west African soldiers into its ranks is charged with ensuring security in the post-election period, and will grow to 11,200 troops, plus 1,400 police, by the end of the year.
The deployment allows France to start withdrawing most of the 4,500 troops it sent to Mali in January to stop the Islamists from advancing towards Bamako and Paris plans to have just 1,000 troops on the ground before the end of the year.