Maldives president declares state of emergency after assassination plot uncovered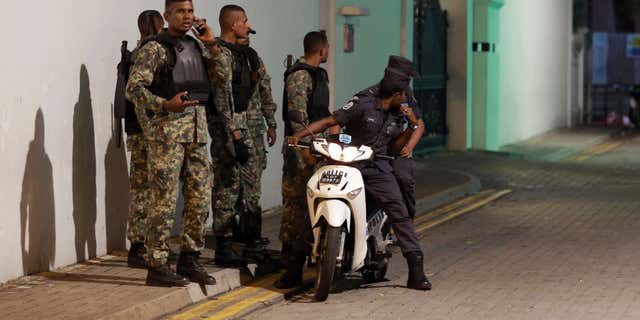 MALE, Maldives – The president of the Maldives declared a state of emergency on Wednesday that curtails key rights of citizens for 30 days following an explosion on his speedboat and the discoveries of an explosive device near his official residence and a separate weapons cache.
Attorney General Mohamed Anil said President Yameen Abdul Gayoom made the decision to safeguard public safety.
"The military and police found weapons and an explosive from two locations in their operations. Because these would be a threat to the public and the nation, the National Security Council has advised to take immediate steps to protect the people of Maldives," Anil said.
Maldives has been tense since a Sept. 28 blast on the president's speedboat and a subsequent series of arrests of people, including the country's vice president, on suspicion of involvement in the explosion.
Gayoom was unhurt by the blast, which the government called an assassination attempt.
The U.S. FBI, which investigated the blast, said it found no evidence that it was caused by a bomb.
The military said on Monday that it found a homemade bomb in a parked vehicle close to the president's official residence. Days earlier, an arms cache was found on an island being developed as a tourist resort.
Maldives is best known for its luxury island resorts and beaches.