Malaysian reform group slams crackdown to silent dissent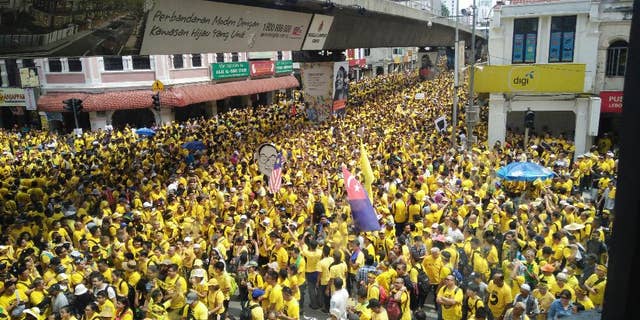 KUALA LUMPUR, Malaysia – After organizing a big anti-government rally, Malaysia's electoral reform group Bersih voiced concern over the arrest of its chairwoman under a security law meant for terrorists and the detention of more than a dozen people.
Police say 15,500 yellow-shirt protesters took to Kuala Lumpur streets Saturday for a second straight year to demand the resignation of Prime Minister Najib Razak over a financial scandal. Bersih estimated the crowd at 120,000.
Bersih official Wong Chin Huat says the security sweep and Chin's detention without trial was aimed at silencing dissent and was a "sign of panic" by the government. He said Sunday that lawyers have had no access to Chin since she was taken Friday.
Najib, who is attending the APEC summit in Peru, says Malaysians are fed up with demonstrations.