Malaysian police kill 5, hold 200 in crime crackdown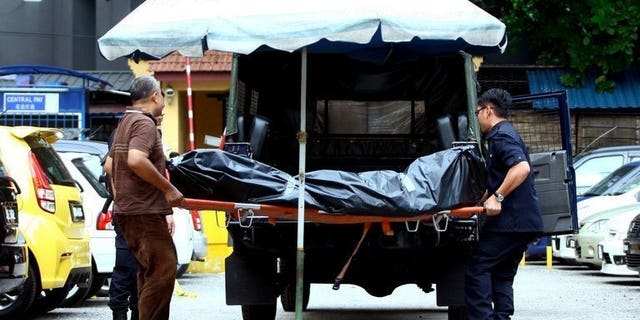 KUALA LUMPUR (AFP) – Malaysian police said they killed five suspected gang members in a shootout early Monday and arrested 200 people in a crackdown on a spate of violent crime that has shocked the country.
Police launched the nationwide anti-crime push Saturday following a growing public outcry over lawlessness that for the past month has seen near-daily shootings and other violence.
The vast majority of crimes have gone unsolved.
The Barisan Nasional (National Front) ruling coalition blames a turf war between criminals released when a tough security law that allowed preventive detention was scrapped in 2011 under pressure from reform advocates.
Critics blame the national police force, which is widely viewed as corrupt and unprofessional.
National police chief Khalid Abu Bakar told reporters in the northern state of Penang where Monday's shootout erupted that 200 suspects have been rounded up nationwide.
"Since Saturday, we set up operations centres and targeted operations to probe the suspects, secret societies' nests and suspected drug traffickers," he was quoted by news portal Malaysiakini as saying.
He said five gang suspects were killed in an exchange of fire early Monday when police moved in on their hideout in Penang.
Known for its beach resorts, multicultural Penang has experienced several of the recent shootings, some in broad daylight.
The Star newspaper reported the five were suspects in the recent Penang violence.
Malaysians have complained for years about a perceived surge in burglaries, robberies, and purse-snatching.
But concerns have risen over the past month with a series of killings. They included the shooting of Bahrain-born Hussain Ahmad Najadi, 75, who founded one of Malaysia's largest banks in the 1970s.
He was gunned down in broad daylight on a street in central Kuala Lumpur on July 29.
A day after Najadi's killing, Prime Minister Najib Razak called on police to curb "brazen" gun crimes.
The crackdown launched at the weekend in the capital includes increased roadblocks and patrols to corral "suspicious" people, police have said.
Police are employing a previously little-used law, which Khalid said would allow them to detain suspects for up to 72 hours for investigation without a court order.
Najib said Monday that his government was still debating whether to reinstate provisions for detention without trial.
"The government is studying the matter so that individual human rights will not be offended, on top of protecting public interest and public order," he was quoted by Malaysiakini as saying. "There must be a balance."
Najib's administration -- which set crime reduction as a key goal -- says crime in the Muslim-majority country has fallen sharply in the last two years.
The opposition says data is being tampered with.