Major earthquakes hit off US, Mexico coasts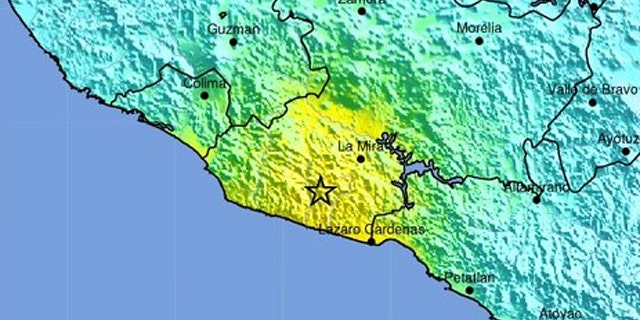 NEWYou can now listen to Fox News articles!
An earthquake of magnitude 7.0 was reported on Mexico's Pacific Coast on Wednesday, following on the heels of a major but lesser quake off the coasts of Oregon.
The Mexican earthquake reportedly was centered in a sparsely populated area in the mountains of western Mexico but still caused tall buildings to sway more than 200 miles away in Mexico City.
People evacuated some buildings in the capital, but the city government said helicopter flights had detected no signs of damage. Authorities in Michoacan state, where the tremor was centered, also had no immediate reports of damage.
A quake of this magnitude is considered a major earthquake, but this one hit about 41 miles below the surface and a tremor's power to cause damage is often dissipated when it is so deep.
The magnitude 5.9 earthquake off the U.S. coast struck about 160 miles west-northwest of the coastal city of Bandon, Ore., with no reports of damage.
Doug Gibbons of the U.S. Geological Survey says the earthquake is not related to two massive earthquakes in Indonesia on Wednesday.
No tsunami warnings have been issued at this time for the North American quakes.
Wednesday's tremor was the latest in a series of strong shakes to hit Mexico City since a powerful 7.4-magnitude quake hit southern Mexico three weeks ago, but this was not an aftershock of that one, USGS geophysicist Dale Grant said.
"It's a different earthquake. We are calling it an individual earthquake," Grant said. "There's a potential for aftershocks."
Last month's big earthquake was felt strongly in the nation's capital, and it damaged hundreds of homes and killed at least two people near the border between Guerrero and Oaxaca states. Mexico's seismological service said that quake has been followed by close to 400 aftershocks, including one of magnitude 6.0.
A quake alert application for Blackberrys that Mexico City's government touted last week did not work Tuesday. Mexico City Mayor Marcelo Ebrard said the alert system has been working for quakes centered in two southern states and will begin to work for any tremors in Michoacan in the next few days.
The Associated Press contributed to this report.