Macron: My charm may have changed Trump's mind on climate change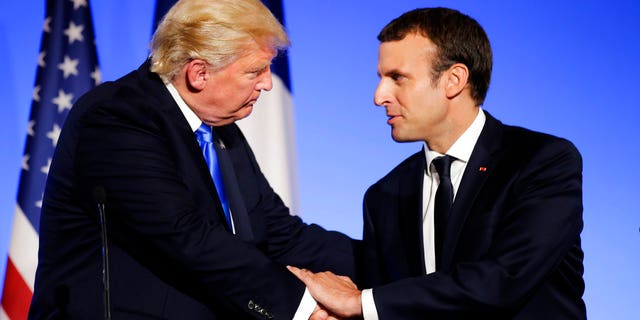 French President Emmanuel Macron says he worked his charm on President Donald Trump during the U.S. leader's visit to Paris – so much so that he may have changed Trump's mind on climate change.
Trump and Macron -- who said his interaction with Trump was carefully calculated -- discussed their main point of contention: U.S. withdrawal from the Paris climate agreement.
PARIS AGREEMENT ON CLIMATE CHANGE: WORLD REACTION TO US PULLOUT
Macron told French news outlet Le Journal du Dimanche that Trump "listened" to him when the two discussed climate change, adding: "He understood the reason for my position, notably the link between climate change and terrorism."
The presidents spoke "in detail" about what could change Trump's mind, allowing the U.S. to rejoin the landmark climate agreement in the coming months, Macron told JDD.
While in Paris, Trump remained non-committal about the U.S. rejoining the climate agreement, telling Macron, "if it happens that will be wonderful, and if it doesn't that will be OK too."
TRUMP HEADS TO PARIS FOR BASTILLE DAY
The French leader acknowledged that Trump's visit — which included a formal welcome at Napoleon's tomb, dinner in the Eiffel Tower and a place of honor at the Bastille Day military parade — was planned to give Americans a "stronger image of France" after deadly Islamic extremist attacks damaged the country's vital tourism sector.
"I think Donald Trump left having a better image of France than upon his arrival," Macron said.
The Associated Press contributed to this report.