Macron gains backing of French political establishment fearful of Le Pen
NEWYou can now listen to Fox News articles!
Emmanuel Macron spent Sunday evening dining at a Left Bank restaurant once frequented by the likes of Pablo Picasso and Ernest Hemingway.
While the French centrist presidential candidate enjoyed a meal after claiming victory in the European nation's first-round presidential election, he was also reveling in the new wave of support he received from an unlikely source: his former presidential rivals from France's traditional political parties.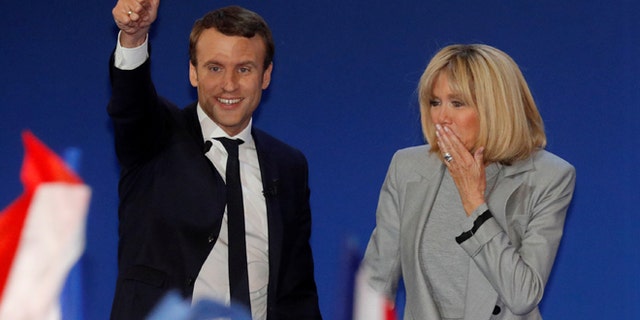 Following Macron's win on Sunday – and the second place finish by far-right National Front candidate Marine Le Pen -- many of the defeated presidential contenders threw their voice behind the centrist front-runner ahead of the May 7 run-off.
The conservative former French Prime Minister François Fillon – once the favored candidate to win the presidency – conceded on Sunday night after pulling in just less than 20 percent of the vote. In a speech to his supporters, Fillon announced that he was supporting Macron's bid for president because there is "no other option but to vote against the far right."
Certainly not a ringing endorsement of Macron or his polices, but a definite sting to Le Pen as she and Fillon share a similar anti-European Union ideology and conservative credos.
Socialist leader Benoît Hamon – the candidate from the other side of France's political establishment – echoed Fillion's words in a speech he gave, saying that while the independent Macron "is not a man of the left" the socialist's supporters should still vote for him.
"There is a distinction between a political adversary and the enemy of the Republic," Hamon said.
The support for Macron from France's political establishment is eerily reminiscent of the presidential race in 2002, where Le Pen's father, Jean-Marie Le Pen, was running against then-incumbent President Jacques Chirac.
When Le Pen and the conservative Chirac finished in the top two in the first round of elections, Socialist Prime Minister Lionel Jospin – who was also running for president – dropped out of the race and threw his support behind Jospin. Soon after, numerous leftist politicians began backing Jospin, who eventually won 82 percent of the vote in a landslide victory.
The younger Le Pen has tried to distance herself from her father's anti-Semitic and xenophobic persona and soften the image of the National Front – and in doing so finding broad appeal among the country's younger voters attracted to her anti-establishment and pro-French-worker stances. Still, she has been vilified for her anti-immigrant and anti-globalist proposals.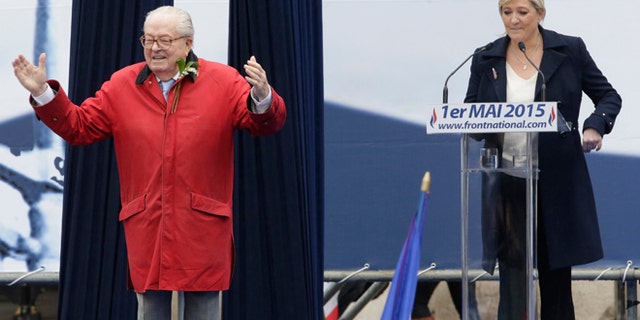 Both the center-right and center-left on Sunday fell in behind Macron, whose optimistic vision of a tolerant France and a united Europe with open borders is a stark contrast to Le Pen's darker, inward-looking "French-first" platform that calls for closed borders, tougher security, less immigration and dropping the shared euro currency to return to the French franc.
Macron came in first in Sunday's vote, with 24 percent; Le Pen had 21.3 percent; Fillon had 20 percent and Melenchon had 19.6 percent. Fillon bested the former Trotskyist by 152,912 votes.
Whoever wins in the May 7 second-round election, one thing is clear: the French public is tired of the political establishment.
French voters rejected the two mainstream parties that have alternated power for decades in favor of Le Pen and the untested Macron, who has never held elected office and who founded his own political movement just last year.
Socialist candidate Manuel Valls, whose party holds a majority in the legislature and whose President Francois Hollande is the most unpopular in modern French record-keeping, got just 6 percent.
"We are in a phase of decomposition, demolition, deconstruction," said Valls. "We didn't do the work — intellectual, ideological and political — on what the left is, and we paid the price."
The Associated Press contributed to this report.