Macedonia to seek arrest in Hungary of former prime minister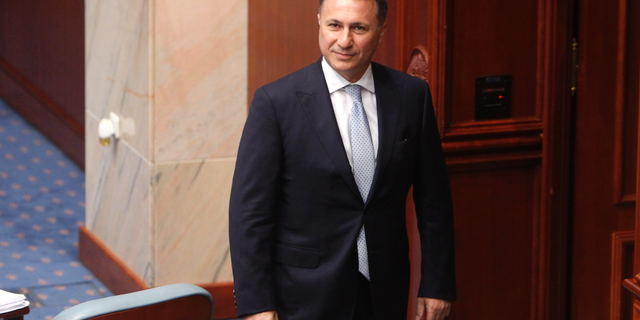 SKOPJE, Macedonia – Macedonia will seek the arrest with an international warrant of conservative former Prime Minister Nikola Gruevski after confirming he fled to Hungary to avoid serving a two-year prison sentence for corruption, authorities said Tuesday.
The Interior Ministry responded nearly five hours after Gruevski announced he was in Budapest in a Facebook post, as police continued searches in the capital Skopje to try and locate him.
The 48-year-old Gruevski who ignored a summons on Monday to appear at a Skopje prison to serve a two-year sentence after being convicted influencing officials to purchase a luxury car for government use. He also faces trial in four other cases that emerged from a wiretapping scandal which erupted in 2015 and plunged the country into a deep political crisis. He has been charged with abuse of office, electoral fraud, criminal association and incitement to violence.
He had surrendered his passport and it was unclear how he reached Hungary.
Gruevski was prime minister from 2006-2016. He is the former leader of the conservative VMRO-DPMNE party, which is the main opposition party which is allied with Hungarian Prime Minister Viktor Orban's right-wing Fidesz party.
Contacted by The Associated Press, the Hungarian prime minister's office refused to confirm or deny Gruevski's presence, adding that "ongoing asylum procedures" couldn't be commented upon.
Gruevski's flight marks the latest dramatic episode in a volatile confrontation between his conservatives and Prime Minister Zoran Zaev's Social Democrats.
The two sides remain bitterly at odds over a proposed deal to change the republic's name to North Macedonia and end a dispute with neighboring Greece that would allow Macedonia to join NATO. Western leaders provided Zaev's government strong backing in supporting the deal, while Russia argued that it was the target of the alliance's expansion eastward.
The Social Democrats accused Gruevski of making a "cowardly escape."
___
Pablo Gorondi reported from Budapest, Hungary