London's Busiest Shopping Street Closed After Fatal Stabbing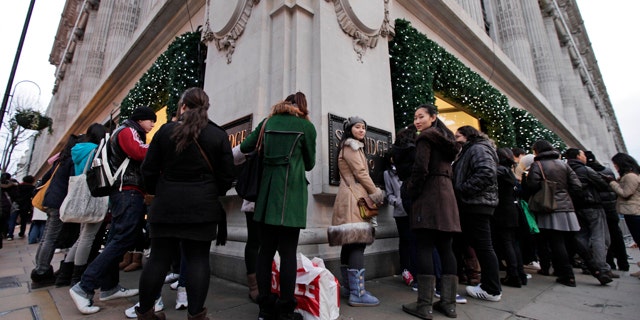 LONDON – A teenager was fatally stabbed Monday after an argument broke out in a sports store on London's most famous retail street as thousands of shoppers flocked to Britain's capital seeking post-Christmas bargains.
The killing of the 18-year-old man on Oxford Street -- and a second wounding in the same road -- did little to deter shoppers crowding into neighboring stores in the landmark shopping district. Bargain hunters were also largely untroubled by a subway strike which badly disrupted the city's public transport services.
Selfridges -- close to the scene of Monday's stabbing and one of Britain's most popular department stores -- reported its biggest ever first hour of trading Monday morning, while the New West End Company, which represents traders on central London's shopping streets, reported 15 million pounds (US$23.5 million) in sales in the first three hours of trading.
"As ever, the West End's Boxing Day sales have attracted shoppers in their hundreds of thousands," said Jace Tyrrell, of the New West End Company.
Sue West, Selfridges' director of operations, said that ladies' accessories and jewelry were the most popular items snapped up. "Despite Tube disruptions ... we had record sales in our first hour," West said.
London's air ambulance helicopter had earlier rushed to the street following the fatal stabbing. Authorities said the teenage victim died before medics could administer help.
Police erected a tent outside a Foot Locker sports store as they carried out investigations and confirmed that ten people had been arrested in connection with the death.
Officers said a second stabbing took place close by -- on the corner of Oxford Street and Regent Street -- but insisted it wasn't immediately known if the two incidents were linked.
Det. Chief Insp. Mark Dunne, of London's Metropolitan police, said two groups of young people appeared to have become involved in a large-scale altercation before the teenager's death.
Dunne said that little more was known about the circumstances, but there were likely to be large numbers of witnesses. "This is probably the busiest place in the United Kingdom right now, on the busiest shopping day," he told reporters at the scene.
"A number of weapons have been recovered from that scene -- whether I have got the murder weapon I don't know. There's an assortment of items, but no guns," he said.
On London's subway network, the ASLEF train drivers' labor union staged a one-day strike to demand extra pay and additional time off for members working on the public holiday.
Despite the disruptions, huge crowds -- some lining up outside stores from midnight -- rushed into department stores in London and other British cities as soon as doors opened early Monday.
The London Underground, the organization that manages the subway system, condemned the move, saying it was pointless and demonstrated "a complete disregard for our customers." Authorities said extra buses were running in main shopping areas to cater to the increased flow of travelers on one of the year's busiest shopping days.
The ASLEF union has warned it plans to stage three more strikes in January and February if the dispute is not resolved.