London terror attack: Killer identified as 52-year-old Khalid Masood
The man behind the deadly rampage that left at least 4 people dead, including a police officer, outside of London's Parliament building was identified as 52-year-old Khalid Masood.
London police said Masood was born in Kent, England and they believe he was most recently living in the West Midlands, which includes the central city of Birmingham.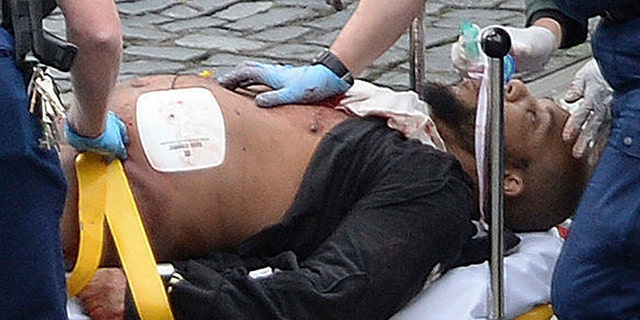 Masood, who died Wednesday after police shot him on Parliament grounds, was known to authorities and had a range of previous convictions for assaults, including grievous bodily harm, possession of offensive weapons and public order offenses.
PHOTOS: AFTERMATH OF 'TERROR INCIDENT' NEAR PARLIAMENT
Police said there was no prior knowledge about his intention to mount a terrorist attack. He had not been convicted for any terrorism offenses.
Prior to #WestminsterAttack Masood,52, was not subject of any current investigations & no intel about his intent to mount a terrorist attack

— Metropolitan Police (@metpoliceuk) March 23, 2017
Masood was identified 24 hours after he drove an SUV, plowing it into pedestrians on Westminster Bridge near the Parliament building. Police said three people were killed and more than 30 were injured. A 75-year-old victim of the bridge attack died late Thursday after he was taken off life support, police said.
Masood continued his attack, fatally stabbing veteran police officer Keith Palmer on the Parliament's grounds before police shot him. He was later pronounced dead.
The ISIS terrorist group claimed responsibility for the deadly rampage, saying Masood was "an Islamic State soldier" who "carried out the operation in response to calls to target citizens of the coalition."
According to a woman claiming to be the suspect's former neighbor, Masood was a father and gardener who had a wife and a young child.
The woman, who spoke to The Guardian, says she didn't know the man's name, but recognized the suspect as her neighbor after being shown a photograph of him on a stretcher.
Iwona Romek told The Guardian "they were a nice family, very reserved." She added that Masood was "very calm…a nice guy." Romek said Masood and his family moved out suddenly around Christmas and did not say goodbye.
Romek took one look at a photo of the attacker on a stretcher and said "That is 100 percent him."
She said Masood would walk the child, around 6 years old, to school in the morning, and that he rarely left in the evening. But one day she saw him packing their belongings in the black van he bought to replace a red Fiat, and then they were gone, months after moving in.
Muhammad Afzal, chairman of the Birmingham Central Mosque, told Fox News on the phone that Masood did not worship at the mosque.
He added that from his understanding, Massood "lived most of his life in Kent and was a convert of Islam."
Prime Minister Theresa May called the attack "sick and depraved" in a defiant address to Parliament early Thursday.
"An act of terrorism tried to silence our democracy, but today we meet as normal … we are not afraid and our resolve will never waver in the face of terrorism," she said. "Democracy and the values it entails will always prevail."
While she honored the police, May also saluted the everyday actions of millions who went about their lives in London as normal and describing it as proof that the attack failed to break the determination of Londoners and Britons.
"As I speak, millions will be boarding trains and airplanes to travel to London, and to see for themselves the greatest city on Earth," she told the House. "It is in these actions -- millions of acts of normality -- that we find the best response to terrorism -- a response that denies our enemies their victory, that refuses to let them win, that shows we will never give in."
UK PARLIAMENT ATTACK IS THE LATEST TERROR SCARE FOR LONDON
May revealed people from 11 countries were among the wounded victims, including one American, who was identified as Kurt Cochran. Family revealed Thursday that the 54-year-old Utah man had died of his injuries.
Others included: 12 Britons, 3 French, 2 Romanians, 4 South Koreans, 1 German, 1 Pole, 1 Irish, 1 Chinese, 1 Italian, and two Greeks required hospital treatment.
Britain's Foreign Secretary Boris Johnson says the fact that victims from the London attack came from 11 countries shows that "an attack on London is an attack on the world."
Johnson, who is in New York to preside over the U.N. Security Council, told reporters Thursday he is confident the extremists will be defeated "because our values are superior ... freedom, democracy, the equality of human beings under the law."
On Thursday, British police announced that six homes were raided and eight arrests were made in connection to the Wednesday terror attack that left four dead, including the assailant.
Armed police carried out the raid in the central city of Birmingham, about 130 miles north of London; however, police said they believed the terror attacker acted alone during his assault on the Westminster Bridge near Parliament.
London has been a target for terrorism many times over past decades. Just this weekend, hundreds of armed police took part in an exercise simulating a "marauding" terrorist attack on the River Thames.
May underscored that the attack targeted "free people everywhere," and she said she had a response: "You will not defeat us."
"Let this be the message from this House and this nation today: our values will prevail," she said.
Fox News' Pamela K. Browne and the Associated Press contributed to this report.