London shares drop as William Hill, Smiths tumble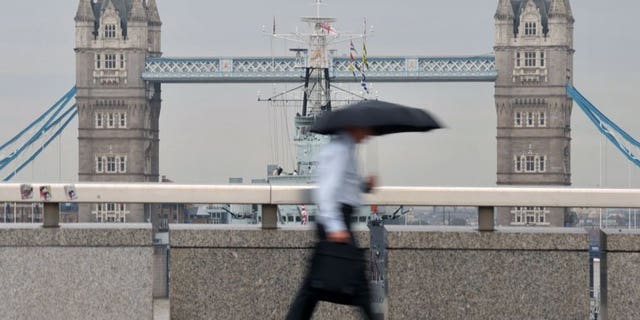 NEWYou can now listen to Fox News articles!
LONDON (AFP ) (AFP) – London shares closed lower on Friday as markets tumbled on weak US nonfarm payroll employment figures, with sharp drops in William Hill and Smiths Industries accentuating the fall, dealers said.
The benchmark FTSE 100 index shed 34.11 points or 0.51 percent to end the day at 6,647.87 points, though still well ahead for the week after closing at 6,554.79 points seven days ago.
"The fact that the market-moving nonfarm figure showed there was only an increase of 162,000 employed people last month compared to an expected figure of 184,000 shook sentiment," said Shavaz Dhalla, a financial trader at Spreadex.
"The figure was particularly disappointing as there has been a string of encouraging data from the US this week including better-then-expected weekly unemployment data as well as manufacturing data," Dhalla said.
William Hill plunged 7.28 percent to 458.50 pence after the betting shop chain's first half results. Net profit expanded to 13 percent to ??113.7 million as sales jumped 20 percent to ??751.6 million but dealers said the market had been expecting an upgrade to full-year guidance.
Technology company Smiths Industries tumbled 5.51 percent to 1,320 pence as it admitted ending discussions to sell in Medical division after failing to reach agreement over a preliminary approach.
State-rescued Royal Bank of Scotland dropped 3.30 percent to 322.50 pence as investors reacted negatively to confirmation of the promotion of New Zealander Ross McEwan to the post of chief executive.
RBS, 81-percent owned by the British taxpayer after the world's most expensive bank bailout, said its head of retail business would take charge from October, alongside news that it had returned to profit.
It posted a net profit of ??535 million in the six months to the end of June compared with a loss after tax of ??2.0 billion in the first half of 2012.
Mining companies were also out of favour, with Randgold shedding 4.01 percent to 4,717 pence and Fresnillo losing 3.97 percent to 1,041 pence.
British Airways owner IAG jumped 6.70 percent as the group announced a return to profit in the second quarter despite the heavy financial burden of restructuring its struggling Spanish unit Iberia.
IAG reported net profit of 127 million euros for the three months to the end of June compared with a loss after tax of 78 million euros in the second quarter of 2012.
"The benefits of Iberia's restructuring are beginning to show," said IAG chief executive Willie Walsh.
GlaxoSmithKline was steady at 1,712.50 pence, shrugging off bad news from India, where the patent board revoked a local patent granted for GSK's Tykerb breast cancer drug in the latest blow to global companies seeking a bigger presence in the country's $13 billion medicine market.
On the currency markets, sterling jumped to $1.5274 at 5:37 pm from $1.5136 on Thursday evening, and strengthened to 1.1506 euros from 1.1452 euros the previous night.