London shares drop amid China credit crunch woes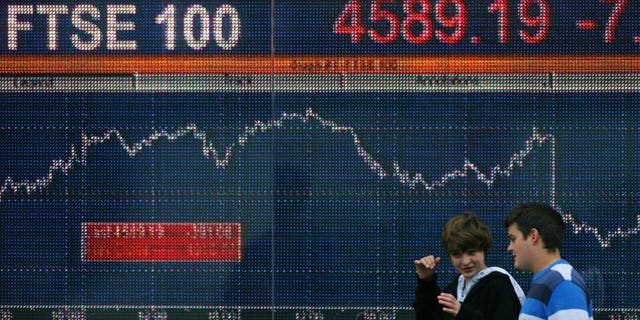 LONDON (AFP) – London shares closed lower on Monday as stock markets fell across the world amid anxiety about a growing credit crunch in China, dealers said.
The benchmark FTSE 100 index shed 87.07 points or 1.42 percent to 6,029.10 pence.
The Shanghai index slumped 5.30 percent on Monday as Chinese authorities refused to pump fresh money into the financial markets despite a growing cash crunch that is squeezing banks, dealers said.
China's central bank has urged lenders in the country to strengthen liquidity management, according to an official note published Monday, in a sign Beijing does not intend to loosen policy despite the credit stresses.
"The Fed's imminent tapering of QE (quantative easing) is front of mind for many, but the effect is being compounded by a reported liquidity squeeze in China," said Mike McCudden, head of derivatives at online broker Interactive Investor.
The rates banks charge to borrow from each other has surged in the past two weeks but the People's Bank of China has refrained from injecting more cash -- owing to fears about a growth of bad debt -- which has in turn weighed on the economy.
"The central bank... will likely just sit out and let the banks sort out their own problems, so the situation with the liquidity crunch is unlikely to change unless there's any sign of monetary loosening," BOC International analyst Shen Jun told AFP.
Goldman Sachs on Monday revised down its forecast for China's economic growth to 7.4 percent from the previous 7.8 percent for 2013, citing tight liquidity in the banking system.
"The recent tightening of the interbank market has sent a strong policy signal that the strong credit growth earlier in the year will likely not continue," it said in a research report.
"The liquidity tightening is another indication that the new government has put priorities on tackling the structural problems," Goldman Sachs added.
Miners and metal stocks bore the brunt of the London downturn. India-focussed Vedanta plunged 6.47 percent to 1,026 pence, Russia-centred Polymetal sank 6.13 percent to 493.30 pence and Evraz, big in Russia and the Ukraine, dropped 5.58 percent to 103.20 pence.
Recently-integrated mining and trading giant Glencore Xstrata fell 4.70 percent to 273.45.
ENRC joined the fallers, tumbling 1.43 percent to 213.80 pence after the miner rejected a ??3.04 bn takeover offer from a consortium comprising the Kazakh government and the company's founders.
Utilities were the only real gainers in the FTSE 100, with United Utilities adding 1.00 percent to 655.50 pence and Severn Trent rising 0.87 percent to 1,628 pence.
Vodafone edged up half a penny to 175.90 pence as the mobile phone behemoth unveiled an agreed $7.7 bn deal to take over Kabel Deutschland, Germany's biggest cable operator.
Kabel Deutschland will provide Vodafone "with an attractive platform for TV and fixed broadband in Germany and creates a leading integrated operator with pro forma revenues of approximately 11.5 billion euros," a Vodafone statement said.
On the currency markets, sterling was steady at $1.5410 at 5:22 pm compared with $1.5404 on Friday evening and strengthened modestly to 1.1769 euros from 1.1738 euros before the weekend.