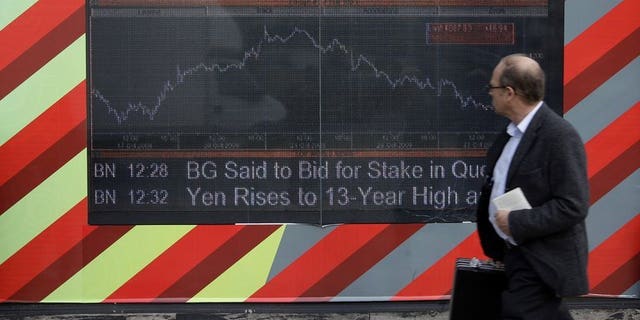 NEWYou can now listen to Fox News articles!
London stocks closed in the red on Tuesday as speculation grew that the US Federal Reserve will start scaling back its stimulus programme as soon as next month.
The benchmark FTSE 100 index dropped 0.19 percent lower at 6,453.46 points.
"It looks pretty ugly today; the mounting worries about Fed's policy direction weakened the appetite for high returns and caused the rush of money out of emerging markets triggering the sell-off in Asia," said Gekko Markets trader Anita Paluch.
"This in turned sparked the sell-off in Europe, adding to the worries."
Lloyds Banking Group was once again the most traded stock, with 173.21 million units changing hands followed by Vodafone which saw 63.11 units switching owners
Fresnillo topped the leaderboard lifted 2.33 percent to 1184 pence. It was followed by BT which added 1.86 percent to 328.20 pence
At the bottom of the table was John Wood Group, dropping 7.97 percent to 831 pence on concerns over its engineering unit. Insurer Prudential was also at the bottom dropping 3.20 percent to 1148 pence.
On the currency markets, the pound firmed to 1.5680 dollars at 5.09pm from 1.5629 dollars on Monday while sterling was a little weaker at 1.1677 euros against the single currency from 1.1735 over the same period.