London shares close higher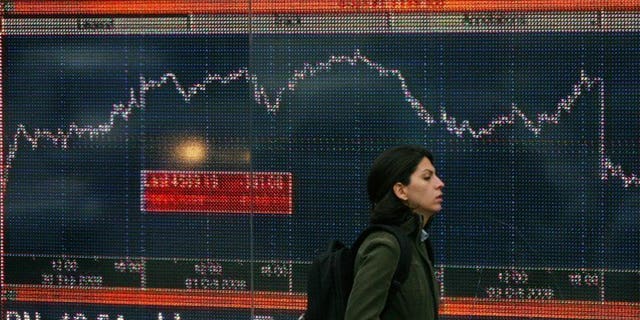 NEWYou can now listen to Fox News articles!
City of London (United Kingdom) (AFP) – London shares inched higher on Thursday after positive US jobs data help ease investor fears over a looming deadline for US lawmakers to reach a budget compromise.
The FTSE 100 index climbed 0.21 percent to close at 6,565.59 points.
Elsewhere, Frankfurt's DAX 30 slid 0.02 percent to 8,664.10 points, and the CAC 40 in Paris dropped 0.21 percent to 4,186.72 points.
"It's been another rather slow and mixed session for Europe's markets as we drift towards the end of the week with optimism about a continued improvement in US weekly jobless claims being offset by background concerns about the political circus playing out stateside, with respect to the raising of the debt ceiling," said CMC Markets UK analyst Michael Hewson.
The FTSE 100 got a late boost from the US which showed that unemployment benefits totalled 305,000 in the week ending September 21, down from 310,000 the previous week.
Stocks had been in retreat because of the acrimonious budget debate in Washington and the prospect of a government shutdown if lawmakers fail to reach a deal by midnight on September 30.
TUI Travel -- Europe's biggest tour -- finished top of the FTSE 100 leaderboard after the tour said it was raising its full-year profits forecast following robust trading during the northern hemisphere summer.
The company -- whose brands include First Choice and Thomson -- said it expected operating profit growth of "at least 11 percent" in the 12 months to the end of September compared with 2011-2012.
The news pleased investors and the shares soared by 3.93 % to close at 370.40 pence.
Whitbread was also in demand and the brewer raised its glass after its shares crept up by 3.34% to close at 3035 pence.
Lloyds Banking Group remained the most traded blue-chip by volume with 93.42 million units switching owners, followed by Vodafone which saw 84.31 million units change hands.
Energy firms were the biggest losers as they continued to slip back following Ed Miliband's announcement on Tuesday that Labour would freeze energy prices for 20 months if they win the general election in 2015.
Centrica was the biggest faller and was down 2.32% to 366.90 pence.
Scottish and Southern Electric (SSE) was also under heavy selling pressure and fell back by 1.95% to 1460 pence.
On the currency markets, sterling slipped to $1.606 at 5:17pm from $1.6081 at around the same time on Wednesday, and also fell to 1.1880 euros from 1.1888over the same period.