London shares close flat as Barclays, BP plunge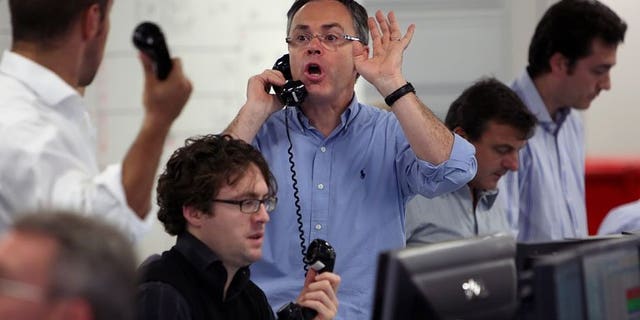 LONDON (AFP) – London shares closed little changed again on Tuesday as sharp falls in Barclays and BP countered gains in other stocks following corporate announcements, dealers said.
The FTSE edged up 10.70 points or 0.16 percent to 6,570.95 points.
Barclays shares dived 5.74 percent to close at 291.30 pence after it set out plans to raise ??5.8 billion by offering shares at a massive discount to shareholders in order to meet demands from regulators.
The rights issue will be offered at almost half price and is part of a far bigger effort to plug a vast hole of ??12.8 billion in the balance sheet.
Barclays made the announcement as it reported first-half results which showed a quadrupling of net profit, but the scale and terms of the rights issue sent the share price plunging.
Weekend media reports had suggested that the bank would seek to raise ??4.0 billion.
"Details of the Barclays capital raising emerged this morning and put a predictable dent in the share price as traders reacted to the ??5.8-billion cash call," noted analyst Matt Basi at traders CMC Markets.
Another big faller in London was BP. Its shares sank 3.41 percent to 451.45 pence.
The energy giant said that its replacement cost profit -- which excludes gains or losses in the value of inventories -- jumped to $2.4 billion in the second quarter, compared with $104 million last time around.
However, stripping out write-downs on the value of oil fields and refineries in the United States last year, underlying replacement cost profit sank 24 percent.
BP also said it will have to put more money aside for its fund to compensate 2010 oil spill victims, as it raised the estimated amount of cash needed to compensate businesses and individuals from $8.2 billion to $9.6 billion.
This means that just $300 million is left out of the $20 billion Deepwater Horizon Oil Spill Trust fund, which was created by BP to settle legal obligations stemming from the catastrophe.
State-rescued Royal Bank of Scotland fell 2.52 percent to 317.40 pence as repercussions from the Barclays news rippled through the market, while Aberdeen Asset Management shed 3.90 percent to 386.80 pence.
Shares in GKN surged 6.54 percent to 348.50 pence after the British vehicle engineering group posted a 12-percent surge in first-half sales, buoyed by its purchase of Volvo's aerospace engine division.
Shares in broadcaster ITV jumped 6.30 percent to 167 pence following news of rising interim profits.
On the currency markets, sterling weakened to $1.5246 at 5:26 pm from $1.5358 on Monday evening and dropped to 1.1496 euros from 1.1578 euros the previous night.