London police arrest man with four-foot sword near Buckingham Palace yelling 'Allahu Akbar'
London police interrogated a man Saturday who had been detained near Buckingham Palace while driving with a four-foot sword in his car and shouting "Allahu Akbar."
Officers said they saw the weapon in the man's car Friday night when he deliberately drove at a police van near Queen Elizabeth II's London residence, one of the city's top tourist attractions.
"Uniformed officers then confronted the driver of the vehicle and during that confrontation the driver reached for a four-foot sword" in the car, Dean Haydon, commander of the Metropolitan Police counterterrorism branch, said.
The suspect repeatedly shouted "Allahu Akbar," which means "God is great" in Arabic, Haydon said.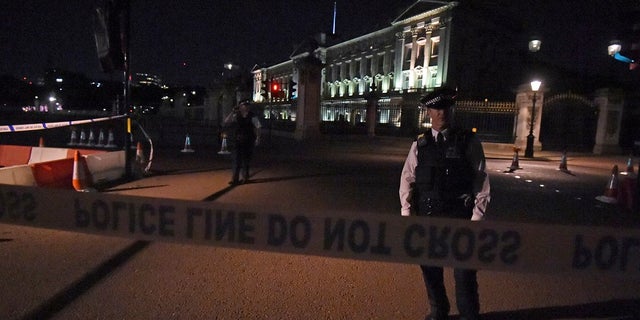 The man was being held on suspicion of assaulting police and has since been arrested.
The Metropolitan Police force said three London police officers were slightly injured while arresting the unidentified 26-year-old man from the Luton area, according to a press release. British counterterrorism police were questioning the man Saturday, officials confirmed.
DUTCH POLICE ARREST MAN PLANNING 'TERRORIST ATTACK' ON CONCERT BY AMERICAN ROCK BAND
The police said they were treating the incident as terrorism but would "remain open minded while the investigation continues," according to the press release.
Haydon said: "We believe the man was acting alone and we are not looking for other suspects at this stage. While we cannot speculate on what the man was intending to do -- this will be determined during the course of the investigation - it is only right that we investigate this as a terrorist incident at this time."
The suspect was taken to the hospital for minor injuries. No one besides him and the police officers were injured.
British media reported no members of the royal family were in the Buckingham Palace at the time of the incident.
Buckingham Palace did not immediately comment and directed all questions to London police. It said tours of the parts of the palace that are open to the public in summer were unaffected Saturday and it would be "business as usual," according to the BBC.
Kiana Williamson, a witness of the incident, told the BBC: "We turned up and there was one police van and one car; there was also a civilian's car that had veered towards the police car. They were trying to get the man out of the car, shouting; more police were arriving on to the scene and the man was fighting back."
"I saw one injured policeman with an injury to his arm, although it didn't look severe. He was being tended to by another officer."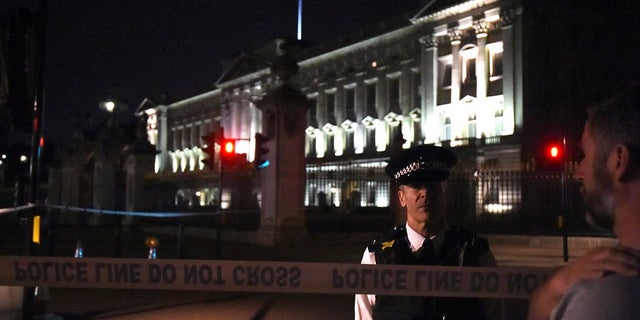 BELGIAN PROSECUTORS OPEN 'TERROR' PROBE OVER KNIFE ATTACK
"The man had been restrained and looked almost unconscious by the side of the road," Williamson said.
Last year, a man convicted of murder climbed a palace wall and was detained on the grounds while the queen was at her residence.
The Associated Press contributed to this report.